Vietnamese Chicken Salad
|
0
Likes
14 February, 2018
|
Learning
|
Chef Ha Nguyen
Making this beautiful salad for the summer.
Ingredients
200g chicken fillets

2 cup of (Chinese or Ordinary cabbage) finely shredded

1 carrots, peeled, cut into matchsticks

1 cup fresh Vietnamese mint, Thai Basil and Coriander

1/2 cup Vietnamese dressing (mix well 1/2 table spoon of fish sauce, 1/2 table spoon of rice vinegar, 1/4 limes and 1 table spoon of sugar, 2 table of hot water, 1 garlic clove -chopped and 1 small chilli chopped)

2 table spoons of roasted peanuts, chopped
Methods
Make dressing: Whisk lime juice, fish sauce, chilli and sugar together in a jug until sugar has dissolved.

Place chicken in a large saucepan. Cover with cold water. Bring to the boil over medium heat. Reduce heat to low. Cover. Simmer, turning once, for 5 minutes or until cooked through. Remove from pan. Chill. Shred.

Place cabbage, carrot, mint, coriander and chicken in a large bowl. Drizzle with dressing. Toss to combine. Sprinkle with peanuts. Serve.
Learning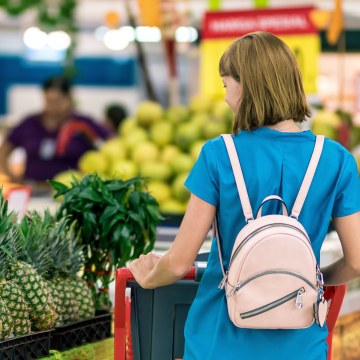 The Supermarket's 7 Secrets You Want To Know
|
2
Likes
Have you ever gone to the supermarket to pick up something and you ended up walking out with other things you think you'll need? If so, keep reading. Supermarkets and groceries have secrets to get us to buy items we weren't planning to buy. Here are the secrets you should know before your next grocery trip.
#1 Spraying Produce with Water
Once fresh produce is picked, they begin to lose its natural moisture so fruits and vegetables dry out. Spraying water on fresh produce helps keep it hydrated so that it maintains moisture and letting it taste fresher for longer. Plump produce also looks fresh and you are more likely to buy food that looks good.
#2 Milk Fridge In The Back of the Store
Few people said that milk needs to be refrigerated otherwise it goes off so when deliveries are made at the back of grocery stores so having milk fridges there would be the best location. However, the real reason is that people come to the supermarket to buy milk, placing the milk fridge in the back forces visitors to walk through the entire store to find it. The result is that you end up seeing interesting products and likely you will buy more than you planned.
#3 Music Encourages You to Linger
Many supermarket play music with a rhythm that's slower than the average heartbeat, which encourages you to move slower, making you spend more time in the supermarket.
#4 Supporting Local Causes
Supermarkets often have budgets laid out for supporting local causes. If the organisation is having a fundraiser, asking your local grocery store for a donation is a great place to start.
#5 Price at the Unit Pricing
When buying everyday items like rice or pasta sauce, it can be tempting to reach for the item that's $4.50, instead of the one that's $5.99. If you look closely at the price tag and you'll notice the price per unit. Usually, it's the smaller, lighter and cheaper bags that end up costing you more.
#6 Fresh Produce Entrance
Having flowers, fruits and vegetables be the first thing you see when you enter a grocery store, gives your brain the impression that you're entering a place that's natural and fresh. Supermarkets know that this zen entry is not only welcoming but it also makes you feel good about shopping at the store.
#7 Almost Expired Produce Used in Prepared Foods
Ever wondered where all that excess meats and produces goes once it's on its last legs? Many stores give it one last appeal in the prepared foods section - marinaded meats, cooked pies, prepared sausages and so on.
Learn more