Chả giò - Spring rolls
Publish on:
20 April, 2019
| In:
Vietnamese
| Author by:
Chef Ha Nguyen
Crispy little rolls of deliciousness, these spring rolls are an easy and versatile addition to any meal. Be creative with the kinds of vegetables or meat you use to fill them and let your imagination roam free.
Ingredients
120 g Pork mince, chicken mice, prawn mince or mixture of these
. . Finely chopped veggies (1 pcs shitake mushroom soaked and diced, 1 pcs wood ear mushroom soaked and diced, 2 water chestnut diced, 2cm carrot diced, glass noodle soaked and diced)
1/2 cup Optional (1/2 egg beaten, dried shrimps....other veggies or tofu for vegan and vegetarian)
1 pack Spring roll pastry
. . Garnish (iceberg, basil, Vietnamese mint)
1/4 cup Nuoc Cham - Vietnamese dipping sauce
Directions
Place all the dried ingredients (mushroom, wood ear mushroom, glass noodle) in a bowl and cover with hot water to soak and soften. Do the same for the dried shrimp. Once they are soft, drain and thinly slice the mushrooms and finely chop the shrimp.
Place the minced pork, mushrooms, shrimp, onions, spring onions, water chestnut and carrot in a big bowl and combine well. Add the beaten egg to hold everything together. Sprinkle in the salt, pepper. Set aside to combine the flavours until needed.
To make the dipping sauce, stir the fish sauce and sugar in a bowl until the sugar dissolves. Add 1 tasp vinegar, 1 tasp fishsauce, 1/2 tasp sugar, 2 tasp water, 1/4 lime juice, minced chilli and garlic.
To roll the spring rolls, lay a sheet of rice paper on a clean, dry surface.Place 2 tablespoons of filling and line the mixture up near the edge of the rice paper like a sausage. Fold over the short edge once to cover the filling, then fold in the rice paper from left and right to enclose the filling securely. Continue rolling towards the end of the rice paper and set aside until ready to cook. Repeat with the remaining rice paper and filling.
Fill a large frying pan with vegetable oil until 1.5 cm deep and heat over medium heat. In batches, gently place the spring rolls into the pan to prevent them sticking to each other and breaking the fragile wrapping. Fry for 4–5 minutes or until golden. Transfer to a plate lined with kitchen towel to soak up the excess oil
To serve, provide everyone with their own dipping bowl and fill with a couple of tablespoons of nước mắm and some fresh coriander. Add some extra black pepper if you like and get dipping!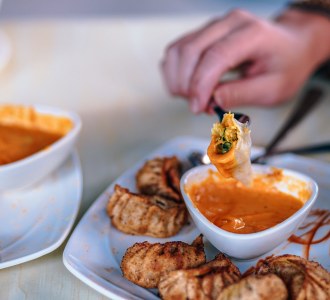 Street Food of Asia
Embark on a cultural journey into the Street Food of Asia with this series of cooking classes. From the smoky...
Duration 2.5 Hours
From AUD $165
Book now
Vietnamese Cooking Master Class
Join us as we explore the fresh and vibrant qualities of Vietnamese cuisine. It's liberal use of fresh herbs, light...
Duration 3 Hours
From AUD $165
Book now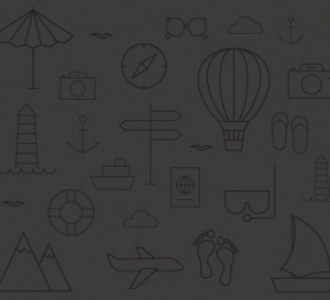 Duration
From AUD $
Book now