Vegetarian Spring Rolls
Publish on:
27 April, 2019
| In:
Vietnamese
| Author by:
Chef Ha Nguyen
Vietnamese spring rolls is known for its best taste and look amazing on your platters for home parties. The spring rolls is typically smaller than Chinese ones and contains ground or chopped vegetables and meats. You can opt out for the meat for mung bean, tofu and other things you like making the best vegan dishes.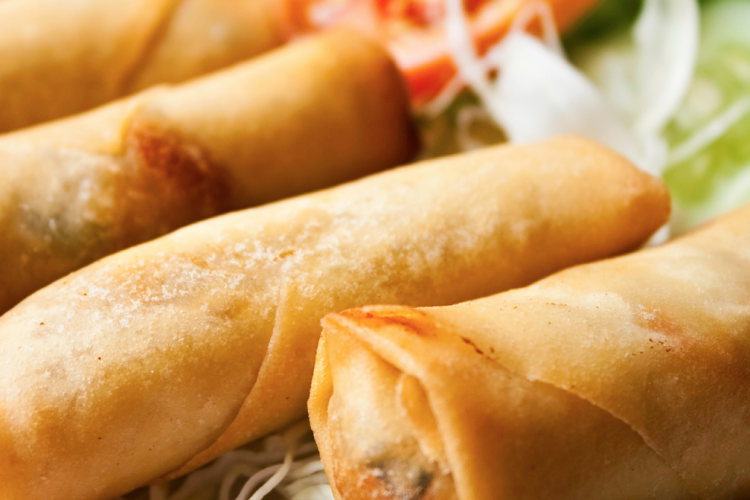 Ingredients
60 g Firm tofu and cooked mung bean
. . Vegetables (2 tasp carrot minced, 1 shitake mushroom soaked and sliced, 1 tasp dried wood ear mushroom, 1 small onion or shallot sliced)
. . Seasoning (salt, sugar, pepper) to taste
6-8 pcs Spring roll wrappers
. . Vegan Dipping Sauce (1 tasp soy, 1 tasp sugar, 2 tasp water, 1/2 lime juice only, 1/2 small chilli and 1 clove garlic smash)
Directions
In a bowl crumble the tofu and mung bean by a fork. Add the chopped vegetables and seasoning.

Cut the spring roll wrappers into triangle shape then carefully peel a spring roll wrapper sheet from the stack and place it before you so that one of the ends is way towards you.

Spoon about 1 tablespoons of the filling in middle of the sheet. Fold both sides in just like an envelop. The roll away from you to make a roll. Wet your finger with water and seal the rolls - not too much water as it might affect with frying later on. Finish the rolling

Bring a frying pan with 0.5 cm deep of canola oil to medium heat. Frying the spring rolls in batches. Make sure they are not stick together while frying.

Serve with Nuoc Cham.