Bo La Lot - Beef in betel leaf
Publish on:
20 April, 2019
| In:
Vietnamese
| Author by:
Chef Ha Nguyen
Fragrantly seasoned grilled beef wrapped up in wild betel leaf (lá lốt) are one of the favourite Vietnamese street food. You can replace the beef with salmon cut into finger size.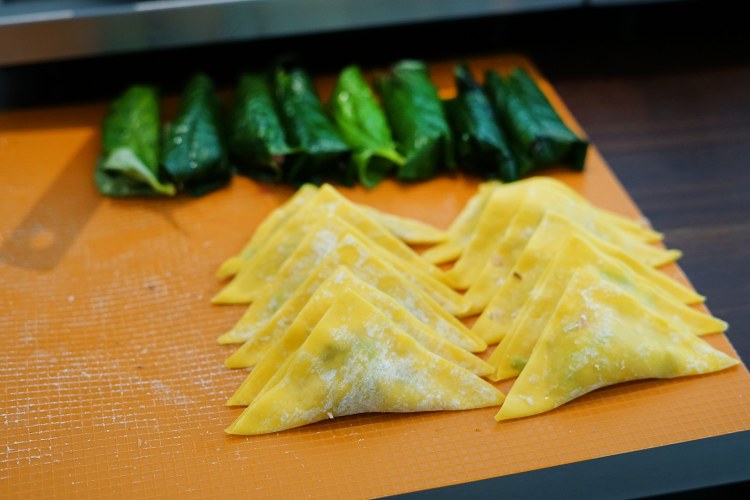 Bo La Lot - Beef in betel leaf
Ingredients
120 g Beef mince or salmon cut into finger size
. . Marinade (1/2 tsp lemon grass, 1 spring onion chopped, 1/2 garlic clove chopped, 1/4 tsp ginger minced, 1 tasp fish sauce, 1 tsp oil, pepper)
1 bunch Betel leaf , cleaned
. . Garnish (noodles, fried shallot, peanuts)
2 tasp Nuoc cham
Directions
Combine the beef, lemongrass, ginger, spring onions, garlic, salt and pepper and allow marinade 15 minutes in a bowl
Pick betel leaves from the stalk and wash in cold water and dry well.
To form the rolls, lay a large betel leaf (or 2 smaller leaves), shiny side down, on a board with the stem of the leaf pointing towards you.
The mixture should make about 20 rolls so you can form them in a sausage rolls first. Then put individual beef mixture onto the bottom edge of the leaf. Work it into a sausage shape, then roll the leaf from bottom to top and place the seam flat on your bench to stop the leaf unrolling.
Cook the parcels, seam first, on a char-grill or frying pan over medium heat, turning to colour all over, for about 5 minutes, or until done.
If you want to have this as a full meal. Place the cooked parcels on a bed of vermicelli noodles, and then drizzle with a tablespoon of nuoc mam dipping fish sauce and garnish with fried red shallots, peanuts and chilli.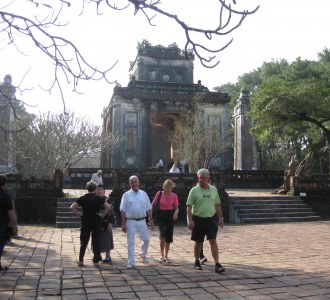 Ultimate Vietnam Food Tour
Discover, cook and eat your way through Vietnam, experiencing one of the freshest and most fragrant cuisines on the...
Duration 14 DAYS
From AUD $3495
Book now
Vietnamese Cooking Master Class
Join us as we explore the fresh and vibrant qualities of Vietnamese cuisine. It's liberal use of fresh herbs, light...
Duration 3 Hours
From AUD $165
Book now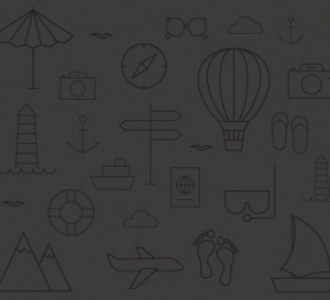 Duration
From AUD $
Book now