Goi Cuon – Fresh Rice Paper Rolls
Publish on:
11 April, 2019
| In:
Vietnamese
| Author by:
Chef Ha Nguyen
Fresh rice paper rolls can be a go-to healthy snack that's bursting with fresh flavours and textures. Easy to make and flexible with ingredients.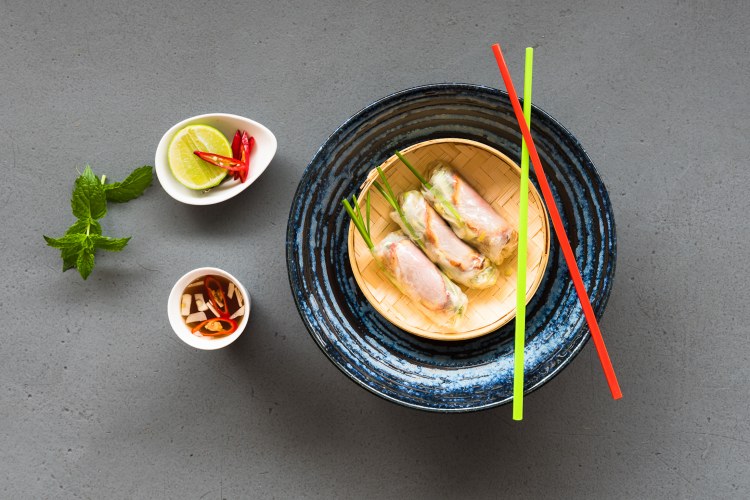 Goi Cuon – Fresh Rice Paper Rolls
Ingredients
4 pcs Meat (chicken, duck, prawn or pork) boiled, sliced except prawns - 1/4 finger size
80 g Bun - Cooked Vietnamese style noodle - boil and drain
1/2 handful Herbs (mint, Thai basil, Vietnamese mint, garlic chives)
1/2 handful Julienne vegetables (carrot, cucumber, iceberg or sprouts)
. . Tofu or vegan meats for vegetarian instead of meats
Directions
Wash the vegetables and julienne into thin pieces around 4mm thick. Pick up herbs, wash and drain well.
Slice pork into thin pieces, you can marinate in a mixture of ginger, soy, chopped garlic and vegetable oil - not too much
Soak and lay the rice paper sheets on a flat, clean surface.
Place the julienne vegetables and pork together across the middle of the sheet, up to the edge of the left side and leaving about 3-4cm on the right side.
Fold the sheet over itself, tucking it in close to the filling to compact it into a 'log' shape. Fold the right-hand side of the sheet in, then continue rolling tightly.
Repeat until you have made the desired number of Rice Paper Rolls.
You can make them 2 hours before and place a damp tea towels over them. Leave them outside.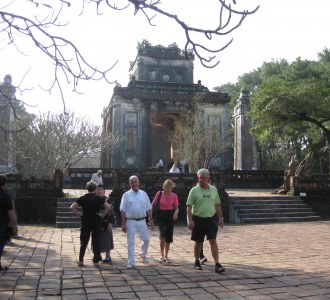 Ultimate Vietnam Food Tour
Discover, cook and eat your way through Vietnam, experiencing one of the freshest and most fragrant cuisines on the...
Duration 14 DAYS
From AUD $3495
Book now
Vietnamese Cooking Master Class
Join us as we explore the fresh and vibrant qualities of Vietnamese cuisine. It's liberal use of fresh herbs, light...
Duration 3 Hours
From AUD $165
Book now