Blogs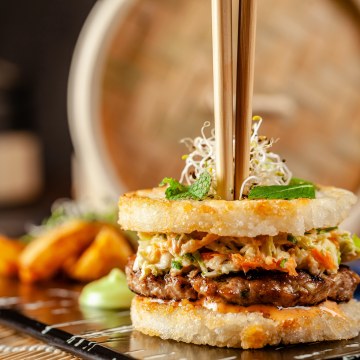 5 Things To Know About Fusion Cuisine
|
2
Likes
It's well-known that English could be the universal language, but anyone saying that hasn't tried fusion cuisine before. There's possibly nothing else that'd uniquely bring two places together as food could. Friends and families share meals every day, bonding over delicious food and drinks. Every person has their own unique food flavour preference. Some would add more spices, others like fresh ingredients, many mixes various flavours in one sitting.The coming together of traditional foods from different parts of the world is called fusion cuisine. There's so much more for all to learn about this fascinating cooking, so here are a few more things you must know:

1. Fusion Is Designer And Not
Although fusion cuisine is usually seen in high-end restaurants with chefs skilfully weaving flavours together, it's believed that fusion started in a more everyday setting, as seen here at https://gotzinger.com. Many generations of cultures have unknowingly created fusion food using ingredients from many different sources.Chefs specialising in fusion cuisine have achieved great success from this cooking style, and most of them sell their creations at astronomical prices. The good news is that these dishes can easily be recreated at home with just a bit of skill and practice.

2. It Promotes Cultural Diversity
For as long as humans can remember, wars have been fought around cultural differences. If ingredients from different cultures can come together and create such lovely dishes, humans can take some lessons from fusion cuisine.Eating a cuisine that's not part of the regular diet could spark interesting conversations about cultural diversity. It may make people more curious about where the food came from, how it's traditionally prepared, and how the natives would make it part of their customs.

3. Provides An Exploration Of Tastes
Some people are more adventurous than others, and fusion cuisine gives them the perfect opportunity to try something new. Be daring and find a new go-to favourite for a snack, learn to cook with spices previously never used, or have a virtual tour around the world by inhaling thearomas. People who eat the same kind of food day in and day out may want more, a new and fun experience. With so many options stemming from the fusion style of cooking, the chance of having a bland meal is slim to none.
Even picky eaters may find fusion cuisine fascinating, and they can combine what they like. Eating in this way could challenge them to explore textures, tastes, and types of food they'd never otherwise think of eating.

4. Recipes And Ingredients Have Traditions
Food can be associated with many traditions and plays a big part in celebrations worldwide.What would the holidays be without those yummy snacks everyone's looking forward to all yearlong? Roast turkey is seen at Thanksgiving for Americans, halva or laddu for the Hindu celebration of Diwali, and dumplings and spring rolls for Chinese New Year. Over the years, many other cultures have shared some of these traditional favourites, including them in their festivities.Fusion cuisine brings all these traditions together, and people from all walks of life can participate in the celebrations of flavours presented on one plate. Cross-cultural relationship shave embraced the fusion lifestyle, and they'd confess that it has certainly made their lives more colourful.

5. Try Different Of The Same
Many restaurants, taverns, fast food places, and homes have combinations of various meals and ingredients. All dishes would vary in taste even though the same ingredients were used. Again, it comes down to personal preferences regarding the cooking method and food spicing that makes all the difference.There are millions of blends possible, so it's likely that one dish may not impress as much as a similar one. With fusion cuisine, the idea is to merge two or more cultural palates into one, and these need to be explored.

Blending It Into OneFor a flavourful fantasy of taste explosions, try fusion cuisine and see what all the hype is about.Learn new facts about traditions, cultures, and how to combine the best flavours worldwide. Be transported to the best destinations by putting a forkful of unique blends into your mouth and feeling part of a greater community.Fusion cuisine is indeed one of the best happy accidents ever stumbled upon, and sharing this with family and friends could make for a few content stomachs as well. Become part of the more significant global majority that's raving about this new fun cooking style. Consider the ideas mentioned here as you plan and prepare.
Learn more