Banh Khot - pancake and stuffings
Publish on:
11 April, 2019
| In:
Vietnamese
| Author by:
Chef Ha Nguyen
This a great street foods. These crispy pancakes are served with nuoc cham dipping sauce, green papaya and plenty of herbs.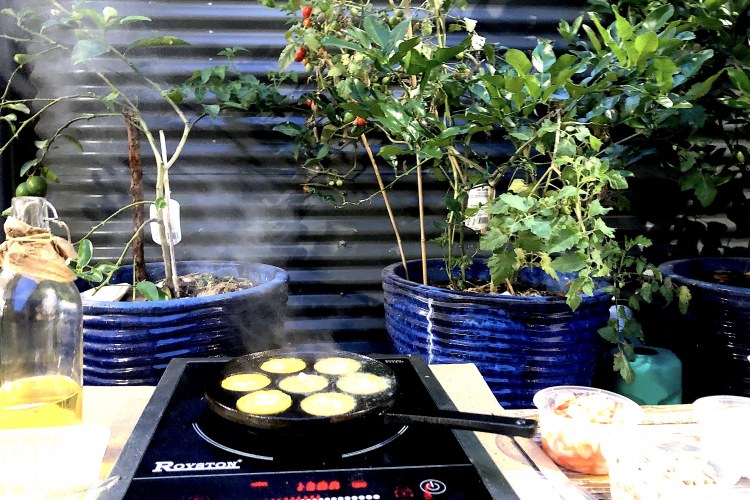 Banh Khot - pancake and stuffings
Ingredients
. . Batter (rice flour 60g, turmeric powder 1 pinch, 1 tasp coconut cream, salt)
1/2 tasp Mungbean soaked and steamed
1 tasp Prawn floss - dry shrimp being ground in a blender or use mortal and pestle
1 doz Prawn med - cooked
.. . Spring onion - thinly sliced
1/2 cup Nuoc Cham
1 handful Vegetables and herbs (mustard green or iceberg, mint, Thai basil and Viet mint
Directions
Soak the mung beans in cold water overnight then strain, then steam over high heat for 15 minutes. Set aside.

Using
 a mortar and pestle, pound the dry shrimps.

For the batter, combine rice flour, turmeric and salt in a bowl and mix well then add water, coconut cream . Stir to combine, then blend using a hand-held stick blender until smooth.

Heat an banh khot pan over medium-high heat and brush the moulds with vegetable oil. Add a tablespoon of batter to each mould, turning the pan in a circular motion to run the batter up the edges of the moulds. Add a pinch of steamed mung bean, sliced spring onion and a piece of chopped prawn to each mould. Place the lid over the pan, reduce the heat slightly and cook for 2–3 minutes, or until the batter is cooked through.

Remove the lid. Using a teaspoon, remove the pancakes from the moulds and transfer to a serving plate. Sprinkle a large amount of the prawn floss over each pancake. Garnish with spring onion oil and and serve with dipping sauce and vegetable.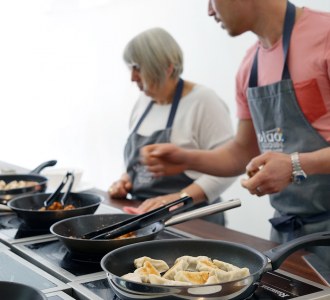 Japanese Cooking Master Class
Inspired with simplicity and popular foods of Japan. Brilliant for things to do in the weekend, gift voucher or...
Duration 3 Hours
From AUD $185
Book now
Vietnamese Cooking Master Class
Join us as we explore the fresh and vibrant qualities of Vietnamese cuisine. It's liberal use of fresh herbs, light...
Duration 3 Hours
From AUD $165
Book now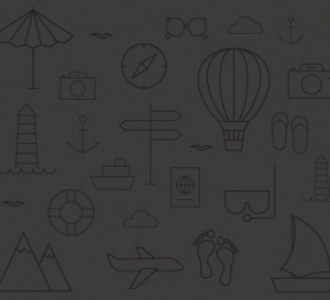 Duration
From AUD $
Book now