Master Classes
Best Cooking Classes in Melbourne
OTAO Kitchen offer best cooking classes in Melbourne.
Making healthy food choices shouldn't be difficult. Joining our master classes Melbourne, you will learn how to make fresh, healthy meals and have a great time while you're at it!
We bring you cooking skills and amazing recipes that are fully transferable to your own home.
In no time you will have mastered quick, healthy and delicious dishes perfect for lunch, dinner and snacks.
Master Classes
Best Cooking Classes in Melbourne
This will save you time and money and the benefits of eating healthy will result in you looking and feeling amazing.
If you never been to a cooking class, Otao kitchen cooking school in a great place to start. Hands on Asian cooking classes with heaps of fun and you'll get to cook and eat what you make from scratch. Thai, Vietnamese, Japanese, Chinese, Indian, Indonesian, Korean, Street Food of Asia, Italian, Mexica, Spanish, Greek, Dumpling, Pizza and Vegan are examples for you to learn new tips and tricks for your home kitchen.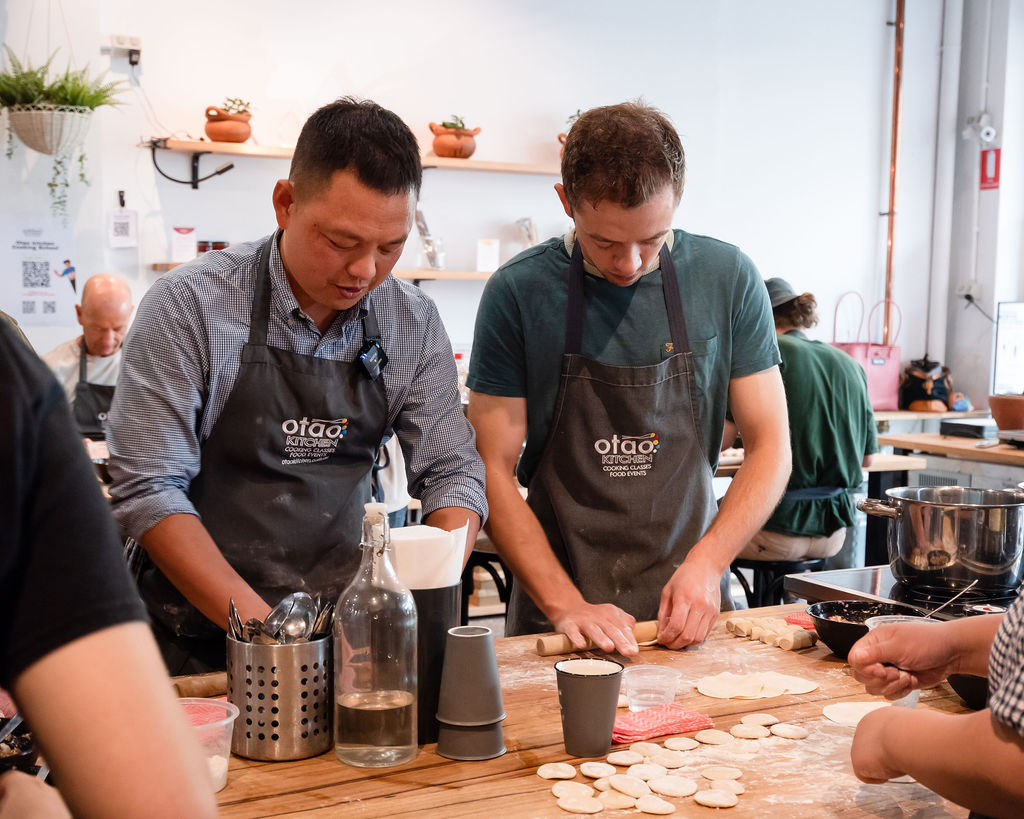 If you are looking to stage up an event, let your event stand out from everyone else by adding an ultimate interactive social cooking, visual cooking or virtual cooking class for your function, event, festival or at home party. Our dishes are designed so your guests can have fun foods while networking and connecting with others. This is a great way to allow guests to have a relaxed style of eating option and still invites them to mingle and move around.
Why join OTAO Kitchen's Asian best cooking classes?
Learning Asian cooking at OTAO Kitchen brings you the opportunity to create wonderful memories with your loved ones, friends, and family members.Our classes offer you a unique cooking experience, where you cook, share, eat, and bond together.
How do we help you turn perfect cooking into a reality?
Everyone loves to watch cooking shows on TV and star chef demonstrations of Asian cooking and modern Australia cooking. Lots of us are real foodies, but have trouble recreating stunning Asian dishes at home, no matter how much MasterChef you watch. We can help you to make a 25 ingredient recipe simple!
The authentic cooking experience
Wouldn't it be great if you could find a one-size-fits-all cooking classes which teaches you to make beautiful food from all over Asia; a stress-free, Asian cooking experience that offers food from Vietnam, Thailand, Japan? That's what Otao Kitchen brings to our guests. Our Asian cooking classes in Melbourne put food from all these regions at your fingertips. You'll get a one-off cooking experience which you can bring home to your friends and family.
Entertain your friends and family with stunning Asian cuisine at home
Imagine stress-free entertaining at home and your friends' reactions when they taste your newest Asian creation? We'll teach you how to professionally present your food and tell stories about Asian culture and the dishes that you make; where does the food come from? What flavours are there? Why is this food important? When and where do you eat it? You'll be able to give your guests the gift of good food and good company.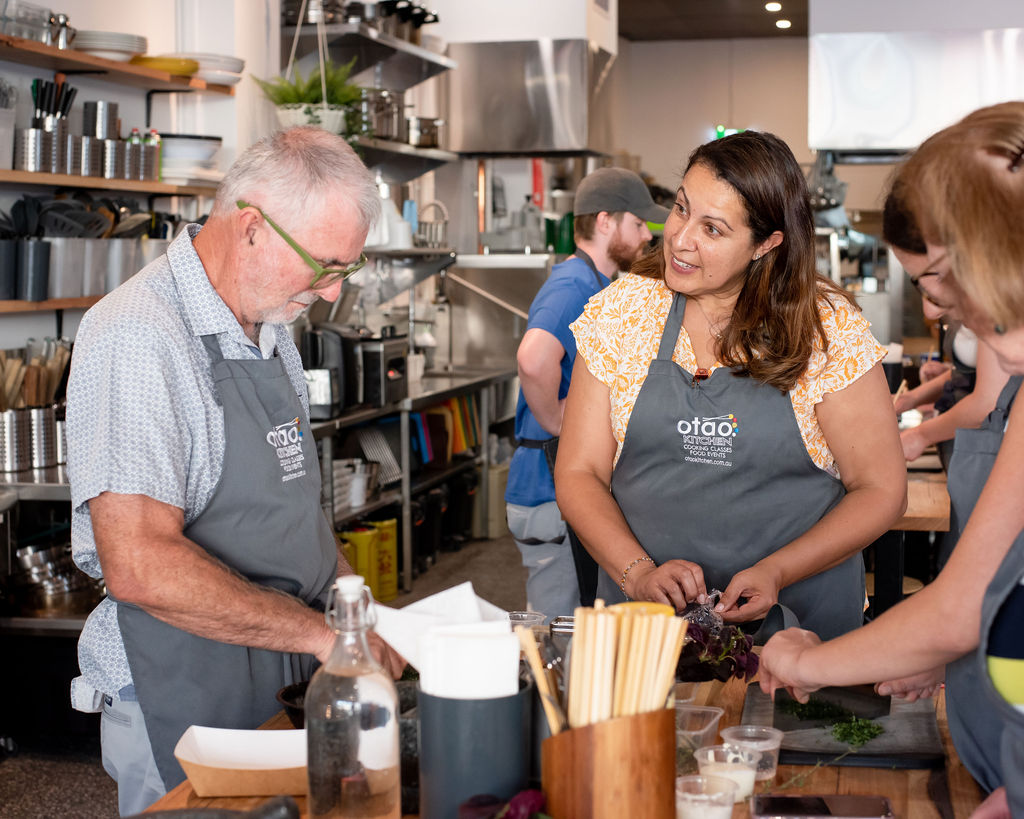 Sharing our experience with cooking
At OTAO Kitchen we've created a one-stop cooking experience. We care about our customers and when you learn with us you'll get a 100% hands-on cooking experience with true satisfaction. You'll learn about our own stories and experiences with Asian food, the food from our childhoods and the food of our memories.
Find out more about the cooking classes available. Choose the theme that suits you, the length 2 hours to 4 hours, before booking your cooking class in just a click. The classes are for everyone, from complete beginners to the more established cooks among us! Our cooking classes are delivered by professional Chefs who have a wealth of experience to share.
Otao Kitchen is proud to be the Melbourne most popular Asian cookery school! Located in Abbotsford near Melbourne CBD, last year we taught over 500 classes with over 8,000 people how to master a wide range of cuisines and skills. Cooking classes Melbourne are shared in a communal cooking experience catering for kitchen novices to cooking enthusiasts. As well as having beautiful kitchens and dining spaces for you to learn and dine in, we have a market tours on Victoria Street Richmond and Queen Victoria Market with the very best Chef-approved ingredients. Our classes are brilliant for Christmas and birthday and anniversary vouchers, things to do in Melbourne, couple things to do, hens party, corporate groups and team building and school excursion.
Highlights
Learn the fundamentals of ingredients and flavours
How to create the recipes yourself and to your palette
Cooking tips, tricks and techniques
Intimate class sizes in a fun and social setting
Experiences inclusions
A hands-on Melbourne best cooking class experience, with expert Chef tuition
Refreshment drinks throughout the class
Use of all cooking equipment and utensils, including apron
The freshest quality food and ingredients provided
A delicious meal celebrated and enjoyed together, toasted with sparkling wine
The recipes from your class so you can recreate them at home
On the day
This hands-on best cooking class experience lasts for approximately 3 hours
Enjoy a complimentary refresher drink on arrival
Demonstration of the Cooking Classes Melbourne Recipes by your Chef
Tastings, making your entree, mains, salads, desserts
Sit and eat together at the end with a glass of sparkling wine
Book a private – corporate classes with us
Our cooking classes are a perfect solution for your Christmas Party, Birthday party, Anniversary, Hens Party

,

Bucks Party

,

Team Building Cooking

, Work lunch and dinner or Corporate event

We can organise the Cooking Class

or a Cooking Party (with custom menu) at your home or any chosen venue for 50+ people.
Best cooking classes to learn insights to bring new foods and flavour home! Experience an OTAO Kitchen Cooking Class today!