Green Papaya Salad
Publish on:
22 April, 2019
| In:
Thai
| Author by:
Chef Ha Nguyen
If you visit Thailand on the streets of Bangkok, food vendors pound together this combination of green papaya, chillies, fish sauce and lime. Make this salad as tradition dictates with a large mortar and pestle to create the unique flavours of Thailand. More Green Curry and Red Curry Making as a base for your dishes.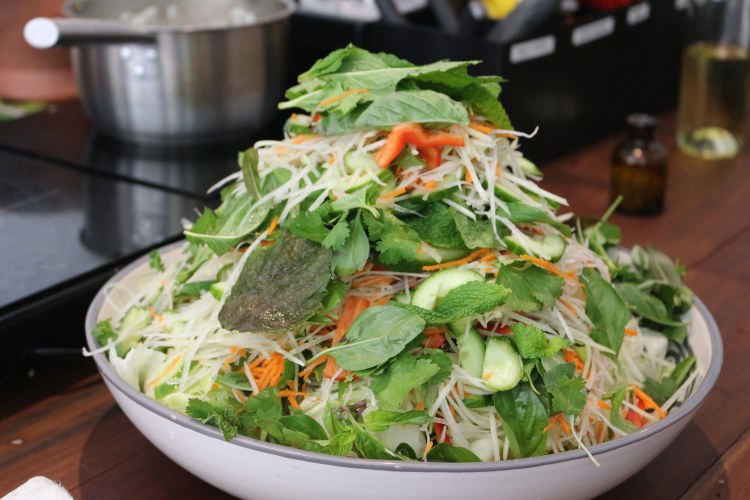 Ingredients
2 cup Green Papaya shred and soak in water
4-8 pcs Grapes or cherry tomatos - halved
1 cup Green beans and carrot - jullience
1/2 cup Mixed herbs and lettuce leaves
. . Dressing (1 tasp fish sauce, 1 table lime juice, 1 tasp brown or palm sugar, 1/2 tasp curry paste, black pepper, extra chilli)
Directions
Finely shred papaya, then soak in iced water. Drain and refrigerate until needed.

Using a large mortar and pestle, pound sugar, garlic and chillies to a rough paste. Add dried prawns and peanuts, and pound until crushed.

Add tomatoes and gently crush. Add fish sauce, lime juice, papaya, and beans, and toss to combine. Spoon papaya salad into lettuce leaves, to serve.
Vietnamese Cooking Master Class
Join us and discover flavour of this fascinating Vietnamese food for its fresh, healthy style of cooking and eating....
Duration 3 Hours
From AUD $165
Book now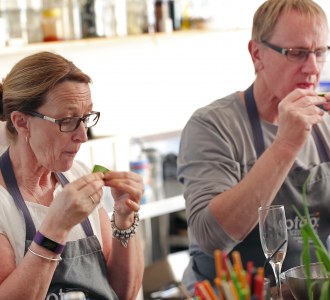 Thai Cooking Master Class
Thai cooking classes showcase the amazing food of Thailand, stories of its people, culture and history. Join us to...
Duration 3 Hours
From AUD $165
Book now