Green Curry Paste
Publish on:
20 April, 2019
| In:
Thai
| Author by:
Chef Ha Nguyen
Green curry paste is must have in many Thai kitchen and it is very versatile and can be used in soups, curries stir-fries and marinades. It goes particularly well with chicken and seafood however you can use it for other dishes as well.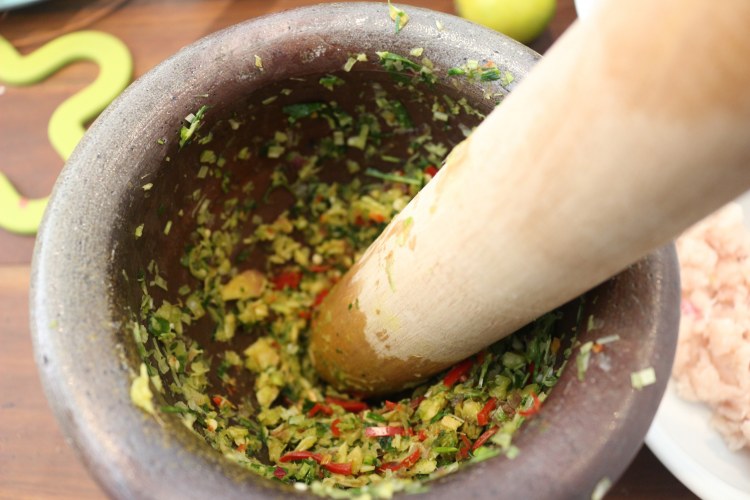 Ingredients
1/2 chopped lemongrass stalk
1 diced Onion or Red shallot
2 chopped coriander roots
1/4 tsp Cumin
4 pcs Garlic chopped
. . 5 Kafir lime leaf chopped or 1 Kafir fruit just the skins
1 cm Galangal or Ginger chopped
4 pcs Green Chilli, chopped
2 tasp Making the past green with Thai basil, spring onion, chive
. . Other ingredients to add (oil, fish sauce, shrimp paste, palm sugar)
Directions
Place all ingredients in a mortar and pestle, pound until all blend it as a pesto, adding enough oil to make a paste. Option to process in a blender until smooth.
You can leave the Shrimp paste out and add it in the sauce later.
Vietnamese Cooking Master Class
Join us and discover flavour of this fascinating Vietnamese food for its fresh, healthy style of cooking and eating....
Duration 3 Hours
From AUD $165
Book now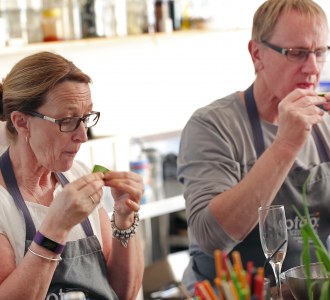 Thai Cooking Master Class
Thai cooking classes showcase the amazing food of Thailand, stories of its people, culture and history. Join us to...
Duration 3 Hours
From AUD $165
Book now