Thai fish cakes
Publish on:
27 April, 2019
| In:
Thai
| Author by:
Chef Ha Nguyen
Thai fish cakes are superb for snack, lunch or dinner. Feel free to adjust the fresh curry paste so everyone in your family can enjoy such as using just a little if cooking for a child, or none at all.
Ingredients
120 g White fish such as rockling, snapper or others
. . Optional to add prawn equal amount with the fish or less
. . Seasoning for fish cake (1 tasp Curry paste, 1/2 tasp fish sauce, 1/2 tsp corn starch, 1 tsp palm sugar, 1 tsp canola oi)
. . Dressing (1 tasp fish sauce, 1 tasp lime juice, 1 tasp brown or palm sugar, 1/2 tasp canola oil, white pepper). Can add some sweet chilli sauce
2-4 pcs Chopped veggies (snake beans or green beans and kaffir lime leaf)
Directions
TO MAKE THE FISH CAKE

Place the fish, prawn, curry paste in to food processor. Turn on and blend for around 3 minutes until the mixture stick together and remove the mixture out of the food processor in to a kitchen bowl.

Add and stir in the seasoning, lime leaves and snake beans. Turn the mixture into 4-6 balls. Flatten each ball into mini burger shapes. Leave in the fridge till needed.Place a pan on with medium heat. Place the cakes into the pan. Cook each side for 2 minutes.

TO MAKE THE DIPPING SAUCE

Add all the ingredients together. You might want to add extra chiliNam jim dressing can be used for the Thai salad as well. You might want to adjust the sweet and sour by adding extra palm sugar and lime juice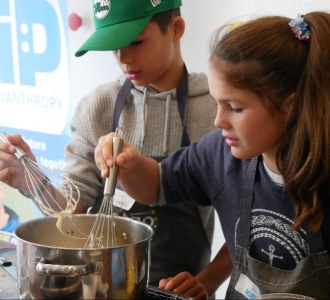 Asian Cooking with Parents and Kids
Get your child immersed in Asian food culture with Otao kitchen kid cooking class. This is a great way for kids and...
Duration 2 Hours
From AUD $165
Book now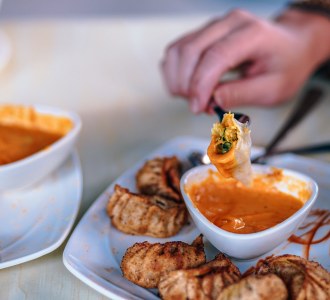 Street Food of Asia
Embark on a cultural journey into the Street Food of Asia with this series of cooking classes. From the smoky...
Duration 6.25 DAYS
From AUD $165
Book now