Lemon Grass Pork Satay
Publish on:
27 April, 2019
| In:
Thai
| Author by:
Chef Ha Nguyen
Ingredients
120 g Pork shoulder cut them in medium chunks
. . Sauce ( 1/2 tasp fresh curry paste, 1/2 tasp minced lemon grass, 3 tasp brown or white sugar, 1/2 tasp fish sauce, 1 tsp canola oil, white pepper).
. . Plus bamboo skewers and garnish with coriander leaves or just use the celery leafs
Methods
In a bowl add all the ingredients for the marinade then add pork pieces, and toss to coat well. Marinate at least 30 minutes at room temperature, or refrigerate for longer overnight.
Prepare a hot grill and soak skewers in water to inhibit burning. Thread pork onto skewers and grill, turning once, until lightly charred but still juicy, about 5 minutes. Serve immediately.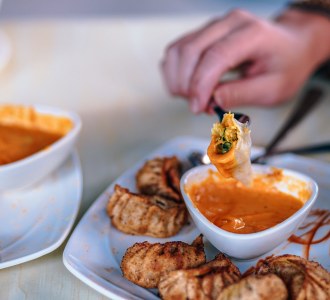 Street Food of Asia
Embark on a cultural journey into the Street Food of Asia with this series of cooking classes. From the smoky...
Duration 6.25 DAYS
From AUD $165
Book now