Team Bonding Process is Simple and Transparent
|
3
Likes
Tired of struggling with too many details that go into any team building activity such as learning, togetherness or having fun? Otao kitchen's team bonding is built to handle all those details and more. Whether your next event is virtual, in-person or a combination of both, we'll make sure it runs smoothly from start to finish.
Our chefs and event managers love what they do. These are people who understand both the art of team building cooking. Their genuine enthusiasm is infectious. They have the ability to inspire and engage, while fostering positive, authentic connections that will last long after your event is over.
Selection. We have a dozen of cooking themes for you to cook, entertain, share and celebrate. Contact us helps you select a program to fit your goals, budget and calendar perfectly.
Customising. There's real power in strategically customising a team and work party event to fit with the business culture, staff inspiration and goal of your team event.
Booking and planning. Your chef and host organises event details for you so you can enjoy the event as well.
Event Day! Your chef and host deliver the cooking event, engage your team, achieve your goals, and wrap things up with a strategic debrief.
Where We Do Team Bonding
We have a brand new 200m2 cooking studio in Abbotsford, Melbourne - just 3km from Melbourne CBD or virtually online. Otao kitchen's greatest strength is that you join us in our kitchen so you can experience the real cooking. Many of our programs can be done at your office. Other times a nearby venue makes more sense. We've staged successful events at countless hotels, restaurants, convention centers, and theme parks across the globe.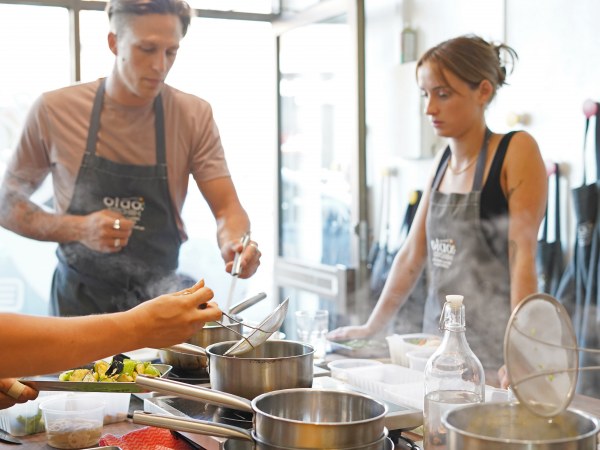 Team Bonding Process is Simple and Transparent
Team Building Cooking
You're planning an important team-building cooking event for your colleagues. You've done it before, but...
Duration 3 Hours
From AUD $197
Book now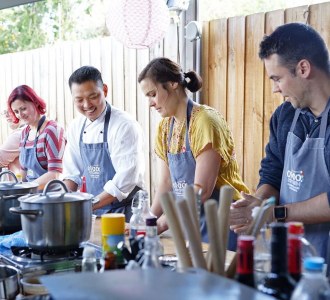 Meeting and Conference
From ultimate fun experiences to unique venue, we have everything you need to create an unforgettable meeting,...
Duration 3 Hours
From AUD $197
Book now
Event Planning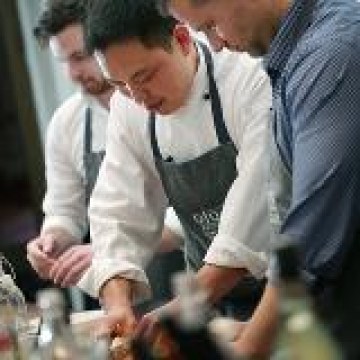 Business Events and Team Building At Otaokitchen
|
3
Likes
Cooking is naturally the perfect way to entertain your guests while having a great time exploring unforgettable regional foods. Otao kitchen has experience in hosting numerous types of events such as Christmas party, team building, corporate hospitality and client events.
Regular business events and team buildings are essential to maintain good relationships within your group and perhaps to facilitate the integration of new hires. There are many activities designed to strengthen the bond between your members. So what types of team building are there? And which one should you choose for your team?
Skill-based team building with our master classes
If you feel like you team should work on improving a particular skill, then this is the type of activity you need - you can try our
Master Classe
s. These amazing experience can transport your team from Japan to Spain and around the globe with 16 menus to choose from. The classes are 2-3 hour length activity that are specifically designed to teach cooking skills and around the world food cultures. In this class, you will explore leadership, conflict management and negotiation.
Teams will learn step by step of each recipe with a chef. It is great for your group spending time together to cook while connect with others in small conversations and stories. The group will then finish the prep, clean up and get ready to cook the first course. The chef will serve local wine and beers then they will demo and supervise the cooking of the first course. Your team will eat what the dish they cook. Then, they start to cook the remaining dishes and enjoy their creations. This is our most popular format as people like the hands on aspect of cooking and willing to take things slower.
FEATURES
Master classes 2-3 hours with expert chef to facility group cooking activity
With 16 menus to choose and we cater to most dietary requests
Suit every cooking level and in door experience
Can include friendly competitive pressure on the teams
Price from $179pp for group 10-32 people with all foods and drinks
Group bigger than 40 guests will be divided into smaller parties
Contact us for a date and time
Networking with our social cooking party
Sometimes, all you need to improve working relationships is to spend some time with your colleagues in a relaxed environment. This type of team building activity doesn't focus on developing a particular skill, but simply provides an occasion for your team members to engage in casual conversation and get to know each other better. Team bonding is easy to organise and a relatively inexpensive way to reinforce the bonds within your team, so don't hesitate to use it to get the best out of your team members.
This is why taking your team to a cooking class can be an excellent idea. If your group members want to party a little and do catch up, then they can enjoy our
Social Cooking Party
are designed with streamline cooking less or no prep. Your guests can go in to make and cook, just having great food and fun. This way we can cater to many dietary requirement and levels of cooking. We can cater from 20-150 people.
FEATURES
The ultimate organic way of building the relationship and connecting to people from 10-150 people
Cooking experience with your own chef or chefs with fundamentals of fresh ingredients and flavours
Prepare a range of quick, healthy and authentic Asian recipes with cooking tips, tricks, and techniques
Refreshment drinks throughout the class with many dishes to try with complimentary 2 glasses of wine and beer - extra can be accommodated -no BYO.
We will get you exclusive use of our venue, indoor and outdoor function spaces available depending on your budget.
Activity-based team building
Competitive Cooking Challenges are perfect for corporate team building, hens' and buck parties, family fun cooking days, our competitive cooking events are designed to inspire creativity and a little friendly competition. Our challenges are based on the popular TV series is a timed culinary challenge to see who can stand the heat of the kitchen.
Your group will be divided into teams, and each team will work under the guidance of a professional chef to create a meal that will be judged. An Otaokitchen judge will sample the finished products and determine the winning team based on taste, presentation and creative use of the ingredients. We have these formats for your team: Food Truck Cooking, Amazing Race, MasterChef and Team Olympics.
FEATURES
A fully interactive cooking session, everyone cooks together.
Friendly competitive pressure on the teams
Explore fundamentals of cooking ingredients, spices and flavour profile
Listen to cooking tips and tricks and recreate the dishes at home with online recipes
Flexible with timing from 2 + hours for 6-60 people
Value-based team building
Value-based team building consists in all team members participating together in a charitable activity. This type of activity provides an opportunity for everyone to show their teammates the best sides of their character. Working together to give back to the community is a particularly memorable experiences to share with your team members. And not only will it strengthen the bonds within your team, but it will also increase employee engagement. Indeed, employees are more likely to care about a company that includes human values in its policy and acts on them. Value-based activities include, for instance, helping r, or running a food drive and donating the profits to a charity of your choice.
FEATURES
A fully interactive cooking session, everyone cooks together.
Each group will make enough food to feed 15-20 meals or people
Can include friendly competitive pressure on the teams
Explore fundamentals of cooking ingredients, spices and flavour profile
Create a delicious meal to your palette then enjoy a homemade meal with complimentary beer and wine
Chef led so there are no cooking disasters
Contact us for your next team building or corporate event.
Learn more