Team Bonding Process is Simple and Transparent
|
1
Likes
Our process is simple and transparent
Tired of struggling with too many details that go into any team building activity such as learning, togetherness or having fun? Otao kitchen's team bonding is built to handle all those details and more. Whether your next event is virtual, in-person or a combination of both, we'll make sure it runs smoothly from start to finish.
Our chefs and event managers love what they do. These are people who understand both the art of team building cooking. Their genuine enthusiasm is infectious. They have the ability to inspire and engage, while fostering positive, authentic connections that will last long after your event is over.
Selection. We have a dozen of cooking themes for you to cook, entertain, share and celebrate. Contact us helps you select a program to fit your goals, budget and calendar perfectly.
Customising. There's real power in strategically customising a team and work party event to fit with the business culture, staff inspiration and goal of your team event.
Booking and planning. Your chef and host organises event details for you so you can enjoy the event as well.
Event Day! Your chef and host deliver the cooking event, engage your team, achieve your goals, and wrap things up with a strategic debrief.
Where We Do Team Bonding
We have a brand new 200m2 cooking studio in Abbotsford, Melbourne - just 3km from Melbourne CBD or virtually online. Otao kitchen's greatest strength is that you join us in our kitchen so you can experience the real cooking. Many of our programs can be done at your office. Other times a nearby venue makes more sense. We've staged successful events at countless hotels, restaurants, convention centers, and theme parks across the globe.
Team Bonding Process is Simple and Transparent
Event Planning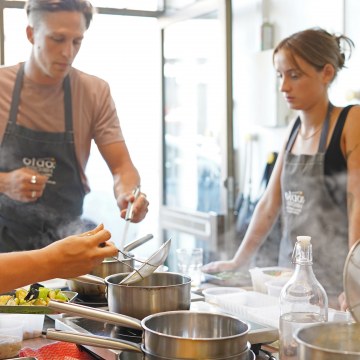 A Guide to Team Building Activities in Melbourne
|
2
Likes
For a Melbourne team to work effectively, it needs team players that communicate, support and collaborate with each other. While you can foster these qualities with time, it's rare to find a team that work well together at the start. Collaboration has to be developed through group activities.
If you're looking up activities for team building, Melbourne team activities are packed with events and classes that will transform your team into a cohesive unit. Fun group activities in Melbourne offers include cooking classes, painting classes, and escape rooms. Your employees will develop friendships, create memories, and build trust, translating to productive, effective work units.
This page covers why you should invest in team-building and lists some of the best team building activities in Melbourne has available to help you get started.
Importance of Team Building Cooking Activities
Team building cooking aims to create a fun and exciting environment where employees can interact while learning new skills. Throughout the cooking activity, they will learn about their strengths and weaknesses and develop the skills to work in harmony with each other. However, it would be best if your company didn't rely on one-off corporate cooking events. Otao Kitchen hosts many cooking activities that allow your team to challenge themselves and build skills that will transfer to the workplace.
Group Cooking Classes in Melbourne
A group cooking class is the perfect team outing. Melbourne is filled with foodies, so connecting your teammates with local chefs makes for a fun and exciting social kitchen escapade.
You can stand beside your co-workers as you learn how to slice and dice and then celebrate the achievement with a delicious meal. Whether you're looking for corporate summer outings or a more intimate setting, you can find new kitchen studio at Otao Kitchen for your employees to build trust and cooperation. Through group cooking classes, your team will:
Virtual Classes for Team Building
As the world continually adapts to the "new normal," remote work has become commonplace. While some may love being able to roll out of bed and have their office a few feet away, remote workers lose out on the relationships typically built through in-person communication.
One way to alleviate this burden is through online group activities. If you're setting up team building activities, Sydney or Melbourne doesn't have to be the stage. You can perform these games from the comfort of your own home while still benefiting from the much-needed social interaction.
Corporate Group Outings in Melbourne
Corporate team-building exercises don't have to be a nuisance. With a little planning and the right atmosphere, you can organise an activity that boosts morale while building camaraderie.
If you're trying to find the most memorable team building activities, Melbourne cooking school Otao Kitchen can deliver, nothing beats a group cooking course—and you can host online group activities. Otao Kitchen has a variety of classes that can appeal to any palate. Contact us today to book group cooking classes for your company.
Learn more