Kung Pao Chicken
Publish on:
24 August, 2018
| In:
Chinese
| Author by:
Chef Ha Nguyen

If you can't find the variety of chillies known as Sichuan chilli at your Asian grocer, use dried small red ones instead. This dish is hot and numbing and represents everything that is good about Sichuan food.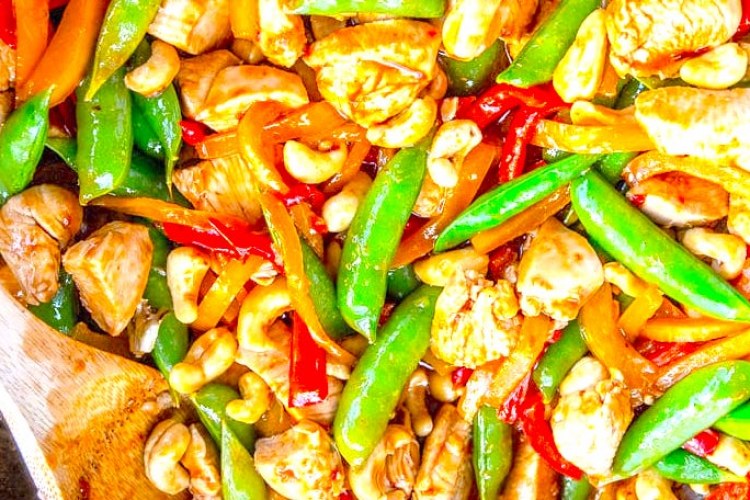 Ingredients
200 g Chicken thigh cut into 1cm cubes
2 tasp Flour plain for dusting
150 ml Canola oil
10 pcs Dried chilli
1 tsp Sichuan pepper
1 clove Garlic chopped
2 pcs Spring onion white parts only
4 tasp Toasted peanuts
1 tasp Rice wine
1 tasp Sugar
1/4 cup Chicken stock
1 tasp Light soy
some to taste Chilli oil
to serve Rice
Directions
Dust the chicken pieces with the flour. Heat 100ml oil in a pan over a medium high heat. Shallow-fry the chicken until golden and cooked through, about 4 minutes. Drain chicken on paper towel. Remove the oil and wipe out the pan.


Place the pan back on a medium-low heat and add some oil. This time you fry all the chillies until fragrant, then remove from pan and set aside. Add ginger and garlic to wok and stir-fry until fragrant.

Add spring onions, Sichuan peppercorns, half the peanuts, chicken and chillies and continue to stir-fry for a minute. Deglaze with rice wine, then add sugar, stock and soy, simmer for a minute or two until a sauce forms.

Add spring onion greens and stir everything well. Serve garnished with remaining peanuts, chilli oil and steamed rice.