Fried Egg Noodles with Asian Green
Publish on:
14 July, 2018
| In:
Chinese
| Author by:
Chef Ha Nguyen
Fresh Chinese egg noodles, the shape and thickness of spaghetti or yellow noodles. This recipe stands out for its lightness and freshness. It's traditionally eaten on its own; enjoy it as a light lunch or supper with any sauces. This dish requires rapid stir-frying so prepare all your ingredients before you begin cooking.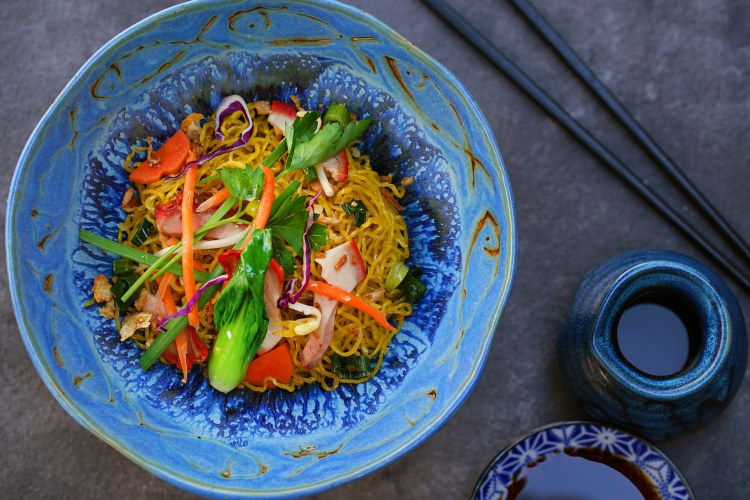 Fried Egg Noodles with Asian Green
Ingredients
. . 230g strong flour, 1 egg, 1tsp veg oil, Pinch salt Enough water to bring the dough together (115ml total liquid including egg + oil), Extra flour for dusting
. . Veg oil for frying, ½ tsp ginger paste, ½ tsp garlic paste, 1x quantity char siu pork + sauce, 1x quantity egg noodles, Small bunch gai lan, Salt to taste
Directions
If you're using fresh Chinese egg noodles that are not precooked, cook them first, cut them in half and set aside.


To prepare the cabbage, bokchoy or choy sum, inspect it carefully, discarding or trimming any spoiled stems or leaves.

Slice capcicum and take the beans' top and tail off.

Heat the wok or pan with some canola oil. Slowly fry ingredients one by one till it cooked. Alternatively you can toss them together quickly.

Mix all the ingredients well. Add the sauce of your choice and stir well.

You can add the sliced char siu or cooked meats and prawns.