Sautéed Eggplants, silky tofu and hot sauce
Publish on:
24 August, 2018
| In:
Chinese
| Author by:
Chef Ha Nguyen
This dish gets its heat from chilli garlic sauce. The eggplant is Chinese eggplant, a long, thin eggplant that is usually purple in colour and often has a white streak.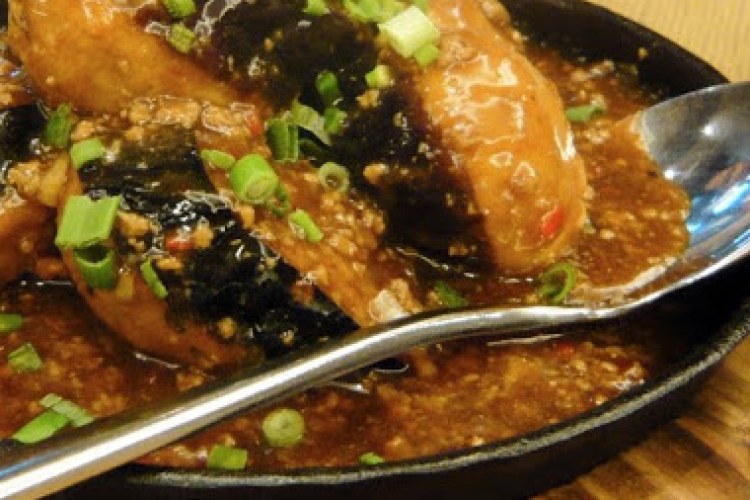 Sautéed Eggplants, silky tofu and hot sauce
Ingredients
1 pcs Eggplant cut into 2cm cubes
2 cloves Garlic minced
2 tsp Ginger minced
1 . Spring onion white part chopped
4 tasp Silky tofu
. . Sauce ( 1tasp dark soy, 1 tasp light soy, 1/2 tasp rice vinegar, 1/2 tasp rice wine, 1/2 sugar, 1/4 cup water or chicken stock, corn starch, chilli pepper)
Directions
Bring a pot of water to the boil the eggplant cubes first. Alternatively you can deep fry or fry them till they are cooked.

In a small bowl combine all the ingredients to make the sauce.

Bring a pan with some oil to medium heat then fry the aromatic - garlic, ginger and white part of spring onion. Add the eggplant.

Add the eggplant into the pan. Stir for a minute to mix everything together. Stir in the sauce.
Turn down the heat to low-medium, cover and simmer for about 10 minutes, until the eggplant is tender.

Add the cornstarch and water mixture in the middle of the pan, stirring quickly to thicken. Mix the sauce with the other ingredients and serve hot.