Thai Sticky Rice Pancake
Publish on:
29 April, 2018
| In:
Thai
| Author by:
Chef Ha Nguyen
These easy to make Thai inspired pancake perfect for you snacks
Ingredients
1/2 cup Glutinous sticky rice flour
40g g Palm sugar chopped
1/4 cup Banana smashed
1/4 cup Coconut milk
2 tasp Dried coconut
2 tasp tasp Young coconut chopped
. . Pinch of salt
Directions
In a small pot, add palm sugar and coconut milk and stir over low heat just until the sugar is mostly dissolved. Remove from heat and cool.


In a mixing bowl, add rice flour, banana, coconuts, salt and the sugar coconut milk mixture. Stir well.

Heat a flat, non-stick pan over medium-low heat. Drop about 1 tasp of batter onto the pan and cook until the bottom is golden brown about 2 minutes and cook other side.

Serve at room temperature or warm. Left over can be refrigerated in tightly wrapped container one week. You will need to panfry or microwave until hot and soft, then let cool slightly before serving.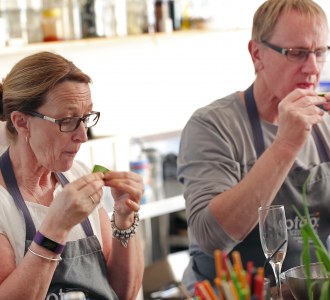 Thai Cooking Master Class
Thai cooking classes showcase the amazing food of Thailand, stories of its people, culture and history. Join us to...
Duration 3 Hours
From AUD $165
Book now