Blogs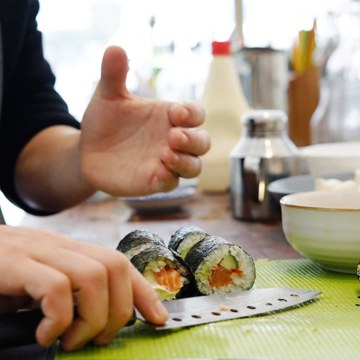 How to buy on a budget the best kitchen knife?
|
0
Likes
A special step in becoming a good home cook is to have a good set of kitchen knives and learn to sharpen your kitchen knives at your own home.
You might be curious to know what is included in a basic kitchen knife set. There are four styles of chef's knives and how we would tell you to determine which kitchen chef's knife is right for you. Because out of all of your kitchen knives, your kitchen chef's knife will be your most used tool in your home.
Even though the market is filled with various styles of kitchen knives, it all comes down to finding a chef kitchen knife that fits your own hand – for it will be the kitchen knife that will take your cooking to much higher levels.
If you are a home cook or a chef, it can be overwhelming knowing what to look for in a kitchen knife with shapes, handles, blades, knife set, sizes, steels and finishes. Choosing a kitchen knife is not as hard you might think, it just seems like it because of all the choices available. The cost and the fear of getting it wrong can be stressful but don't worry, we're here to help you figure it all out and get you a knife so sharp your onions will cry in fear.
Let's cover one the biggest fears first - a good knife can cost a lot of money and it's sometimes scary hovering over at the kitchen store or online. When you buy a kitchen knife in Australia, you're buying something you should be able to use for the rest of your life if you look after it. When a chef decides to buy knives they look for something to use daily and for his and his cooking career because they learn how they can look after their kitchen knives.
It's not the most efficient way to use your knife on a tomato, capsicum or eggplant. It's a great demonstration of the sharpness of kitchen knives. If your current knife can't manage this, it might be time for you to think about sharpen your kitchen knives or upgrade to something better.
We often get asked for a recommendation and we nearly always give the same answer if a customer doesn't have a specific style in mind or they're after a general use chef knife and that's to buy something from the range. They have it all - beauty, sharpness, a quality edge and hard wearing carbon steel and an excellent price tag.
If you're after a little more then we recommend heading to the homepage and browsing all our ranges where we've written about and reviewed each knife and and there's a good selection to choose from to cater to all tastes and budgets.
It's worth bearing in mind that because nearly all of the knives on the site are handmade in small forges by one or two blacksmiths and as such supply is not guaranteed and when a knife has sold out it can sometimes take months to restock.
If you're keen on a particular knife don't leave it too long to buy it because it might be gone and in the case of some ranges for several months or more.
Read more here as we will guide 7 steps for you how to choose the best kitchen knife for your home.
Learn more