Steamed Shanghai Soup Dumplings (Xiaolongbao)
Publish on:
24 August, 2018
| In:
Chinese
| Author by:
Chef Ha Nguyen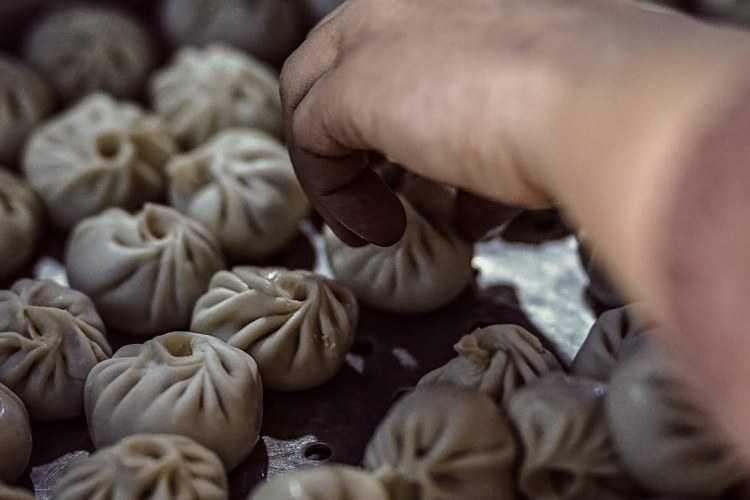 Steamed Shanghai Soup Dumplings (Xiaolongbao)
Ingredients
500 g Pork mince
40 ml Ricewine
1/2 tsp Sesame oil
to taste Salt and pepper
3/4 tsp Sugar
3 tsp Light soy
3 tasp water
1 tasp Ginger minced
1 cup Aspic cut into cubes
to serve Chinese black vinegar and julienne ginger
250 g For the aspic - Pork skin
500 g Pork bones
for flavour Ginger (2 slices) Spring onion (2) Ricewine (1tasp)
. . For the dough (1cup of flour and 6 tasp warm water)
Directions
For the aspic (our chefs do this one a night before!)

Ingredients

½ lb pork skin, cut into 1-inch strips
1 lb pork neck bones (you want neck bones that still have meat on them!)
water
2 slices ginger
1 scallion, cut into 3 pieces
1 tablespoon shaoxing wine

Methods

In a small pot, add the pork skin and pork bones and cover with cold water. Bring to a rolling boil, and immediately drain and rinse off the bones and the skin. This gets rid of any impurities. Rinse out the pot and put everything back in. Add 4 cups of water, ginger, scallion and wine. Bring the pot to a boil and then reduce the heat to low. Cover and simmer for 2 hours.
After 2 hours, turn off the heat, allow the soup to cool, and strain the liquid into a bowl. As to the leftovers in the pot, you can discard it or go the Chinese route, which would be to drizzle some light soy sauce over everything and start grazing). Once the liquid is completely cooled, cover and refrigerate overnight.

Step 1: The Dough

In a mixing bowl, add the flour and the warm water 1 tablespoon at a time. Work and knead the dough for 15-20 minutes.
The dough should be very soft and smooth. Cover with glad wrap and let it rest for 20 minutes.