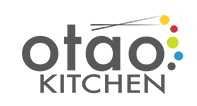 Japanese Pancake Okonomiyaki
Publish on:
10 December, 2018
| In:
Japan
| Author by:
Chef Ha Nguyen
This Japanese pancake okonomiyaki is simple to make. You can change flavours and textures with fresh squid or prawns. Garnish with bonito flakes and kewpie mayo.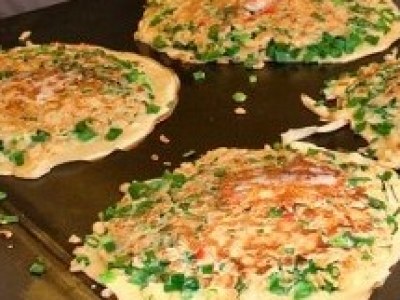 Japanese Pancake Okonomiyaki
Ingredients
4-5 tasp Flour
1 pcs Egg, lightly beaten
100 ml Water or milk or cooled fish stock, vegetable, chicken or dashi stock
4-5 pcs Water chestnut or grated baby potato
1.5 cups Cabbage
2 pcs Spring onion, chopped
optional . Ginger, mirin and soy
to taste Salt and pepper
100 g Prawn, squid, octopus or bacon
. . For the sauce (2 tasps tomato ketchup, 1 tasp HP sauce, 1 tasp Worcestershire sauce, 1 tsp mirin, 1 tsp honey, 1/2 tsp vinegar)
. . For ganish mayo, bonito, seaweed and spring onion
Methods
Combine the flour, baking powder, egg and stock. Mix until smooth, whisking out any lumps without over mixing. Add the water chestnut, season with a little salt and white pepper, cover and rest for at least an hour.


For the sauce mix ingredients by stirring until it's smooth

Remove the batter from the fridge and add the cabbage, spring onion, ginger, soy, mirin and chosen optional fillings. Stir to thoroughly coat the mix in the batter.

Bring the pan with a thin layer of oil to medium heat. Pour the mixture into the pan, keeping them pile up in the centre. Fry for 3-5 mins. Use a palette knife to help you flip it over and cook for a further 3-5 mins. You can use a lid to trap the heat so it cooks faster. Test to see if it's ready by sticking a knife or spoon into the middle to see the centre is cooked.

Remove onto a plate and serve with the sauce and garnishes. Serve immediately
Vietnamese Cooking Class Master
Join us and discover flavour of this fascinating Vietnamese food for its fresh, healthy style of cooking and eating....
Duration 3 Hours
From AUD $165
Book now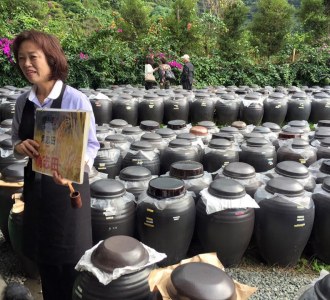 Ultimate Japanese Gourmet Food Tour
Japan showcases a culturally fascinating past that blends into phenomenal country today. With iconic Mount Fuji,...
Duration 21 DAYS
From AUD $3630
Book now
Japan
Publish on: 14 July, 2017 | Author by: Chef Ha Nguyen
Some of these sushi rice, nori, bonito, miso—are common enough that you can find them at or your local health food store. The rest it might require a trip to an Asian grocery or an online order. Your efforts will be richly rewarded.
NORI SHEET
You might experience nori when you have sushi and other Japanese dishes. Commonly wrap is used for sushi and nigiri. It is also a garnish or flavouring in noodle preparation and soups. It is toasted prior to consumption.
SAKE
You don't need to drop dime on fancy stuff for cooking, but a decent bottle is miles tastier and more complex than "cooking sake."

ROASTED SESAME DRESSING
Bring out the flavours of your foods with Kewpie dressing. This dressing is nutty and creamy as an ingredient for your pastas and salads. Main ingredients are soy bean oil, egg yolks, roasted sesame, mustard.
BONITO FLAKE

Dried, fermented, and smoked skipjack tuna also known as katsuobushi. This is the yin to kombu's yang in dashi. Quality ranges widely; you get what you pay for.
RICE VINEGAR

Avoid "seasoned" rice vinegar, which has sweeteners and other additives in it. Choose a brand that lists rice and water as the only ingredients.
MISO
It is fermented soybean pastes, from younger, fresh-tasting white to long-aged, funky red. The latter, which is mellow and sweet, is the best introduction to miso.
MIRIN

Brewed from sticky rice, this cooking wine is sweeter and less alcoholic than sake. Pick one made with sugar rather than glucose or corn syrup—you can taste the difference.
SOY

Japanese soy is lighter, thinner, and saltier than standard soy, usukuchi is perfect for seasoning dishes like yosenabe hot pot without darkening the colour too much.
SHORT GRAIN RICE – SUSHI RICE
With its pearly grains and subtle flavors, sushi rice is Japanese short-grain rice varietals.
WASABI
Wasabi has tastes the pungency of horseradish and mustard. Wasabi is sold either as a stem to grated before use. However, we can get dried powder or ready to use tube in supermarket in Australia.
KEWPIE MAYO
This is Japanese smooth mayonnaise being introduced to Japanese in 1920s. Kewpie mayo has been a predominant household condiment on vegetables and as a salad dressing. Kewpie is a smoother, creamer mayonnaise, and it's made with rice vinegar rather than distilled vinegar.
JAPANESE SEASONING
Japanese seasoning meant to be sprinkled on top of cooked rice, vegetables, and fish. It typically consists of a mixture of dried fish, sesame seeds, chopped seaweed, sugar, salt, and monosodium glutamate.
SUSHI MAT
Made by bamboo to use to roll sushi
JULLIENNE GRATER
Use to grate julienne from carrot, daikon and other vegetables.
JAPANESE COOKING CLASS
The food of Japan is often based on freshest seafood, seasonal vegetable and Japanese ways of simplicity. So we will present you a focus on fresh seasonal produce, prepared meticulously and presented beautifully. Japanese Inspired dining is a definitely memorable experience. Too many beautiful dishes to prepare, we will work on something you can make at home. Here we will learn the most popular Japanese cooking. READ MORE JAPANESE COOKING CLASS
JAPANESE ESSENTIAL INGREDIENTS
Great for presents and gifts. Japanese made easy! Check out Japanese essential ingredients kit here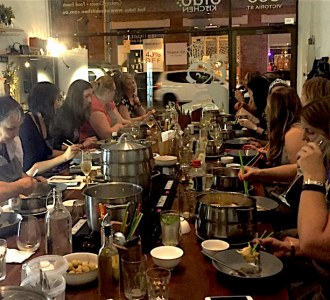 Hens Party Ideas Melbourne
Take your hen's party out for hands on cooking class inspired Asian Restaurants. The subtle variations by cuisines...
Duration 3 Hours
From AUD $125
Book now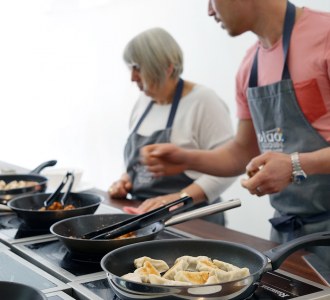 Japanese Cooking Class Master
Inspired with simplicity and popular foods of Japan. Brilliant for things to do in the weekend, gift voucher or...
Duration 3 Hours
From AUD $185
Book now
Publish on: 12 July, 2017 | Author by: Sake Chef
GOYA DUMPLINGS
Prep Time15 min Cook Time15 min Total Time 30 min | Make individual
INGREDIENTS
100g lean pork mince
1/4 cup finely chopped or mince cabbage can replace with minced water chestnuts...
1/4 tsp sesame oil
1/2 tasp soy sauce
1 tsp graded ginger
1 garlic cloves, crushed
4 tasp chopped spring onion
12 wonton or dumpling wrappers
1 tablespoon vegetable oil
sliced green onions, to serve
Dipping sauce
1/3 cup teriyaki sauce or soy sauce
1 teaspoon sesame oil optional
METHODS
Place mince, cabbage or water chestnut, sesame oil, soy sauce, ginger and garlic in a bowl.
Stir to combine.
Place wrappers on work surface.
Spoon 1 heaped teaspoon mince mixture on 1 half of wrappers.
Brush edges with cold water. Fold remaining wrapper halves over to enclose filling. Press edges together to seal.
Heat half the vegetable oil in a large frypan over high heat. Remove from heat.
Reduce heat to medium-high. Arrange half the dumplings in pan.
Cook for 1 to 2 minutes or until bases are browned.
Add 1/2 cup hot water. Cover with lid.
Cook for 4 to 5 minutes, adding more water if necessary.
Remove from heat. Uncover.
Stand for 1 to 2 minutes or until dumplings come away from pan easily.
Repeat with remaining oil and dumplings.
Meanwhile, make dipping sauce with placing teriyaki sauce or soy sauce and sesame oil in a bowl. Stir to combine.
Serve dumplings with dipping sauce and onion.
DAIKON SALAD
Prep Time5 min Total Time15 min | Individual or share within couple
INGREDIENTS
2 cm x 3 cm daikon - julienne
1/2 med carrot - julienne
And some of these cherry tomatoes, rocket, cucumber, katsuobushi dried bonito flakes,
nori seaweed
Garnish with sesame seeds
Dressing - 2 tbsp soy sauce + 1 tbsp rice vinegar + 1 tbsp sesame oil + 1/2-1 tsp sugar
Dressing can be using those ready made roasted sesame
METHODS
Put all of the dressing ingredients in a bowl and stir well. Set aside.
Peel and slice the daikon into thin juliennes. Soak in water for a while to make it crispy and drain well and squeeze to get rid of any excess moisture.
Mix the daikon with the dressing. Serve with other vegetables such as cucumber, rocket, carrots and tomato on a plate.
Sprinkle the sesame seeds over the salad.
You can serve with katsuobushi and nori seaweed on top for a more traditional Japanese flavour
Adjust the amount of the dressing ingredients to your taste.
OKONOMIYAKI
Prep Time 15 min Cook 10min Total Time25 min | Make individual or share between couple
INGREDIENTS
2 tablespoons of plain flour
1 tablespoons of potato, peeled, grated
1 eggs
some water or milk
1 green cabbage or Wong bok leaves, shredded
50g bean shoots
1 green onions, sliced
some oyster mushrooms, sliced
2 tablespoons canola oil
6 rashers bacon, rind removed, halved optional
Salt and pepper to season
METHODS
Mix together flour, potato, 1 egg, a pinch of salt and enough water to form a batter the consistency of thickened cream.
Add cabbage, bean shoots, green onions and mushrooms.
Heat a little oil in a large non-stick frying pan over medium-low heat.
Spoon one-quarter of mixture per pancake into frying pan. Cook for 10 minutes.
Make a hole in the middle of each pancake and crack an egg into the hole.
Arrange bacon over egg and cook a further 5 minutes.
Turn pancake over and cook for 10 to 15 minutes or until bacon is crisp and pancake is cooked through.
Keep warm and repeat with remaining pancake batter, eggs and bacon.
To make sauce: Combine soy sauce and mayonnaise
Serve warm
RAMEN NOODLE
Prep Time 15 min Cook 10min Total Time25 min | Shared between couple
INGREDIENTS
For the stock - 2 cups of pork stock, 1 cups water, 1 garlic cloves - chopped, 2 tbsp soy sauce, 1 tsp worsterchire sauce optional, 1/4tsp five spice optional, little chilli powder optional, 1 tsp white sugar, 2 slices of ginger
For the topping - 200g ramen noodles, 200g sliced cooked pork or chicken breast (marinate in soy sauce and garlic), 100g baby english spinach leaves or Asian greens, 2tbsp corn kernels optional, 1 hard-boiled eggs, peeled and halved
For the garnish - 1 sheet nori seaweed, sprinkle of sesame seeds, spring onions
METHODS
Slice and fry the pork or chicken in a frypan with chopped garlic, soy sauce and sesame oil.
Remove from the pan.
In the pot of boiling water, cook the ramen noodles for 5min then strain.
In a stockpot or large saucepan, place the chicken stock, pieces of halved garlic cloves, soy sauce, worsterchire, ginger, five spice and chilli powder together and bring to boil.
Reduce to simmer for 5 min. Taste the stock and adjust to your liking. If it is too salty add some sugar, add more soy if you prefer it saltier.
Divide the noodles into 2 soup bowls.
Arrange the pork on top of the noodles, along with the spinach, half egg, and 1tbsp corn kernels each.
Bring the stock to boil once again, then take it off and divide the stock in the soup bowls.
Place the nori sheet as garnish, spring onions and sesame on top of each soup bowl.
Allow the spinach to slightly wilt before serving.
MISO SOUP
Prep Time5 min Cook Time5 min Total Time10 min Serve 2-3 | Instructor to make for demo and guests to taste
INGREDIENTS
2.5 cups water
1 package of dashi stock powder
1 tsp dried seaweed
1.5 tasp miso paste - white, brown
50 g silken tofu cut into 0.5x0.5cm cubes
METHODS
Place large saucepan over medium heat with the water. Bring to the boil reduce heat to low.
Add the seaweed and cook for 1 minute. Add the tofu and cook for a further 1 minute.
Place the miso paste in a small bowl with small amount of the dashi and stir to dissolve or just add straight in and stir well. Place the mixture to the saucepan and gently stir to combine. Bring to a simmer then remove from heat.
Divide evenly serving bowls. Sprinkle with green onions and serve when they are hot
MASTER OF SUSHI
Prep Time45 min Cook Time25 min Total Time45 min | Shared between group for ingredients
INGREDIENTS
1.5 cups Sushi Rice
2 cups water
3 tasp rice vinegar
1 tablespoons mirin
1 tablespoons caster sugar
1 teaspoons salt
4 sheets nori (seaweed sheets)
1/2 Lebanese cucumber, cut into thin strips
1/2 avocado, peeled, cut into thin slices
Fresh salmon 100g per person - instructor to portion and guest to cut into 0.5x0.5cm
wasabi paste, soy sauce, pickled ginger
METHODS
Wash rice under cold water and place into a saucepan with water. Bring to the boil and educe heat to medium, simmer for 5 minutes. Cover and cook over very low heat for 15 minutes then remove from the stove. Rest and covered for 10 minutes.
Meanwhile, place vinegar, mirin, sugar and salt into a small saucepan over low heat. Cook, stirring, for 3 minutes, or until sugar has dissolved. Refrigerate until cold.
Spread rice over a large tray. Drizzle vinegar mixture over rice. Using a wooden spoon, make cutting strokes into rice to distribute vinegar mixture, please don't stir.
Place a sheet of nori, shiny side down onto a bamboo mat Place 3/4 cup of rice mixture onto nori. With wet hands, gently spread rice evenly over nori, leaving a 3cm border at far end. Place a strip of cucumber onto rice, 3cm in from edge. Place an avocado slice and a seafood stick next to the cucumber. Roll up. Repeat with remaining nori and fillings. Cut each roll into 6 pieces. Serve with wasabi and soy sauce.
JAPANESE TERIYAKI
Prep Time10 min Cook Time15 min Total Time30 min Shared between a couple
INGREDIENTS
1 tablespoon sake (Japanese Rice Wine)
1 tablespoon mirin (sweet Japanese rice wine)
1 cup soy sauce
1 tablespoons light brown sugar or white sugar
1 teaspoons grated fresh ginger
Splash sesame oil
300g of chicken thigh fillets (no skin or bones), preferably organic, cut or scissored into bite-sized pieces
1 teaspoon peanut oil
1 3/4 to 2 1/2 cups sushi rice, cooked according to packet instructions
METHODS
Cut the chicken into small pieces
Heat oil in a large shallow frying pan or casserole over medium heat. Fry the chicken until they are cooked on the outside.
Add the sake, mirin, soy sauce, sugar, ginger and sesame oil in a pan. Bring the pan to high heat and reduce once it boil. Simmer and reduce to 2/3 volume to become your marinade or the sauce thicken.
Brush the marinade to the chicken, then turn down the heat for about 5 minutes for chicken to cook. Cut into a piece of chicken to make sure it's cooked through.
Remove the cooked pieces to let the liquid boil down to a thick dark syrup.
Return the chicken pieces back to the pan, stir well so that all the chicken pieces are coated in the sticky savory syrup. Serve with a comforting pile of sushi rice and perhaps some steamed baby bok choy or salad of your choice.