Japanese Essential Ingredients
Publish on:
14 July, 2017
| In:
Japanese
| Author by:
Chef Ha Nguyen
JAPANESE COOKING
Japanese cooking at home can be your ultimate choice when it come to full of flavour, light on ingredients, healthy for you and your family and most importantly it is quick to make.
JAPANESE INGREDIENTS
Perhaps you start out with a simple pantry already. For sure every household will have a bottle of soy sauce. Navigating the Japanese groceries at Asian store or Japanese grocery online store has become easier these days. We noted that there are higher quality ingredients are clean ingredient list, nice packaging and higher price.
Many products come to Japanese Grocer in Sydney, Japanese Grocer in Melbourne, Japanese Grocer in Brisbane, Japanese Grocer in Perth and Japanese Grocer online or Asian stores can contain additives. You can always turn the product around and read the ingredient list and you will see what it's in there. Main Japanese package products soy sauce, miso, sake, miring and vinegar can have complex flavour traditionally as they are fermented products. Quite often it may have glutamates or different forms of MSG 621, 622, 623.
In Japanese ingredient list may sound daunting but like anything Japan is a small country and most efficient in term of food production. These staple ingredients are fundamental to Japanese foods and core ingredients to some of be best iconic dishes of our foods around the world today.
Some of these sushi rice, nori, bonito, miso—are common enough that you can find them at or your local health food store. The rest it might require a trip to an Asian grocery or an online order. Your efforts will be richly rewarded.
NORI SHEET
You might experience nori when you have sushi and other Japanese dishes. Commonly wrap is used for sushi and nigiri. It is also a garnish or flavouring in noodle preparation and soups. It is toasted prior to consumption.
SAKE
You don't need to drop dime on fancy stuff for cooking, but a decent bottle is miles tastier and more complex than "cooking sake."

ROASTED SESAME DRESSING
Bring out the flavours of your foods with Kewpie dressing. This dressing is nutty and creamy as an ingredient for your pastas and salads. Main ingredients are soy bean oil, egg yolks, roasted sesame, mustard.
BONITO FLAKE

Dried, fermented, and smoked skipjack tuna also known as katsuobushi. This is the yin to kombu's yang in dashi. Quality ranges widely; you get what you pay for.
RICE VINEGAR

Avoid "seasoned" rice vinegar, which has sweeteners and other additives in it. Choose a brand that lists rice and water as the only ingredients.
MISO
It is fermented soybean pastes, from younger, fresh-tasting white to long-aged, funky red. The latter, which is mellow and sweet, is the best introduction to miso.
MIRIN

Brewed from sticky rice, this cooking wine is sweeter and less alcoholic than sake. Pick one made with sugar rather than glucose or corn syrup—you can taste the difference.
SOY

Japanese soy is lighter, thinner, and saltier than standard soy, usukuchi is perfect for seasoning dishes like yosenabe hot pot without darkening the colour too much.
SHORT GRAIN RICE – SUSHI RICE
With its pearly grains and subtle flavors, sushi rice is Japanese short-grain rice varietals.
WASABI
Wasabi has tastes the pungency of horseradish and mustard. Wasabi is sold either as a stem to grated before use. However, we can get dried powder or ready to use tube in supermarket in Australia.
KEWPIE MAYO
This is Japanese smooth mayonnaise being introduced to Japanese in 1920s. Kewpie mayo has been a predominant household condiment on vegetables and as a salad dressing. Kewpie is a smoother, creamer mayonnaise, and it's made with rice vinegar rather than distilled vinegar.
JAPANESE SEASONING
Japanese seasoning meant to be sprinkled on top of cooked rice, vegetables, and fish. It typically consists of a mixture of dried fish, sesame seeds, chopped seaweed, sugar, salt, and monosodium glutamate.
SUSHI MAT
Made by bamboo to use to roll sushi
JULLIENNE GRATER
Use to grate julienne from carrot, daikon and other vegetables.
JAPANESE COOKING CLASS
The food of Japan is often based on freshest seafood, seasonal vegetable and Japanese ways of simplicity. So we will present you a focus on fresh seasonal produce, prepared meticulously and presented beautifully. Japanese Inspired dining is a definitely memorable experience. Too many beautiful dishes to prepare, we will work on something you can make at home. Here we will learn the most popular Japanese cooking. READ MORE JAPANESE COOKING CLASS
JAPANESE ESSENTIAL INGREDIENTS
Great for presents and gifts. Japanese made easy! Check out Japanese essential ingredients kit here
Japanese Essential Ingredients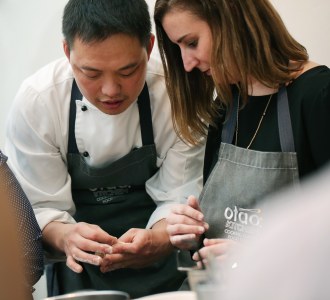 Melbourne Ultimate Hens' Cooking Party
Nothing will bond the ladies in your bride tribe more than the Melbourne ultimate hens' cooking party. We've...
Duration 2-3 Hours
From AUD $149
Book now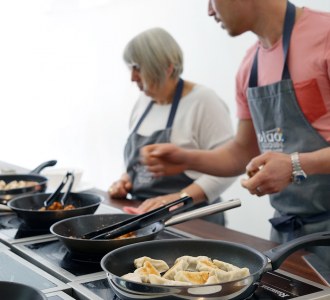 Japanese Cooking Master Class
Inspired with simplicity and popular foods of Japan. Brilliant for things to do in the weekend, gift voucher or...
Duration 3 Hours
From AUD $197
Book now