Printer Friendly
Print Option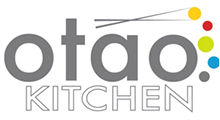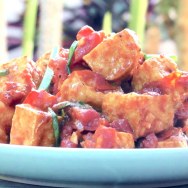 Spicy Tofu Salad 두부샐러드
Servings


2

Prep


10

m

Cook


10

m
Recipe By: Chef Ha Nguyen
This tofu braised in a spicy sauce and pan fried with caramelised onion, garlic and spring onions. The is is juicy, a little spicy, crispy on the outside and soft on the inside. It's a delicious side dish for rice, noodles or porridge, and tastes meaty even though it's a totally vegetarian dish.
Ingredients
1/2 pack Tofu
3 tasp Canola oil
1/2 tsp Sesame oil
1 tsp Sesame seeds
1 minced Garlic
2 pcs Spring onion cut into 2cm lenghth
. . For the sauce mix in 1 tasp soy sauce, 1 tsp sugar, 1 tasp hot chilli flakes, 1 tasp vegetable oil, 2 tsp diced tomato, 2 tasp water)
Directions
Rinse tofu in cold running water and dry it with cotton or paper towel and cut into 2cm cubes


Add the cooking oil to a non-stick pan and heat it up over high heat and g

ently fry them for 7 to 8 minutes. Rotate the pan to cook the tofu evenly and the bottoms get a little crunchy.

Transfer the tofu to a plate. Keep the leftover oil in the pan. Add chopped onion, garlic, and green onion and stir fry for 2 minutes.

Add the sauce and keep stirring until it reduces a bit and thickens the the tofu.

Sprinkle some sesame seeds over top and the rest of the chopped green onion for garnish.
© 2021 OTAO Kitchen. All Rights Reserved. ABN 65 606 809 581
Printed From otaokitchen.com.au 06/17/2021