Printer Friendly
Print Option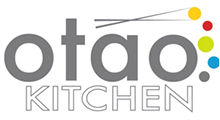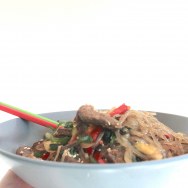 Japchae 잡채 Stir-fried Glass Noodles and Vegetables
Servings


2

Prep


20

m

Cook


10

m
Recipe By: Chef Ha Nguyen
Japchae is a mixed vegetable dish first invented in the 17th century. Highlight of the dish is glass noodles, which is made from sweet potatoes, along with colourful vegetables and well seasoned meat.
Ingredients
180 g cooked dangmyeon (glass sweet potato noodles), cooked in boiling water for 15 minutes, then strained. About 60g dry noodles.
1/4 pcs capsicum, pith removed, julienned thinly
1/4 pcs carrot, julienned
2 pcs rehydrated shiitake mushrooms, julienned
1/4 pcs white onion, sliced thinly
40 g bean sprouts
20 g enoki mushrooms, base removed, cut in half
4 pcs garlic chives, cut into 3-4cm batons
q pcs clove of garlic, minced
1 tablespoon vegetable oil, for frying
. . ----Sauce-----
3 tablespoons soy sauce
3 teaspoon sugar
1 tablespoon sesame oil
1 tablespoon toasted sesame seeds
Directions
----sauce-----

Mix all ingredients of the sauce together


Heat a pan over medium-low heat.

Add in the vegetable oil, then the capsicum, carrot, white onion and shiitake mushrooms and saute, stirring occasionally for about a minute or until the onions begin to soften a little. 3.) Add the minced garlic and stir for another 30 seconds- 1 minute or until the garlic becomes fragrant.

Add the dangmyeon noodles, the bean sprouts, garlic chives, and enoki mushrooms and begin breaking up the noodles.

Add in the sugar, the soy sauce, and sesame oil, and stir until the seasonings have been incorporated evenly into the mixture.
© 2020 OTAO Kitchen. All Rights Reserved. ABN 65 606 809 581
Printed From otaokitchen.com.au 10/31/2020