Printer Friendly
Print Option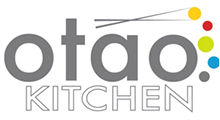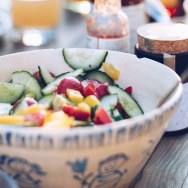 Indian Cucumber Salad
Servings


2

Prep


10

m

Cook


5

m
Recipe By: Chef Ha Nguyen
Cucumbers, tomatoes, and onions salad combination is great for hot and spicy Indian foods.
Ingredients
. . Salad (1 small cucumber, 1/4 onion sliced, 1/2 cherry tomato halved, 1/4 carrot julienne, coriander leaves)
. . Dressing (1/2 tasp olive oil, 1 tasp lemon juice, 1/4 cumin powder, salt and pepper)
Directions
Peel and dice the red onion. If you'd like the onion to have less of a bite, soak them in water for 15 minutes, drain, and then add to the salad. Prep the cucumber, tomato, carrot and add them together with the onion.


Mix the salad dressing in and serve.
© 2020 OTAO Kitchen. All Rights Reserved. ABN 65 606 809 581
Printed From otaokitchen.com.au 11/30/2020