Printer Friendly
Print Option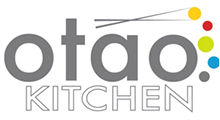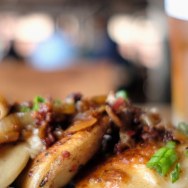 Chicken mole
Servings


2

Prep


50

m

Cook


60

m
Recipe By: Chef Ha Nguyen
Ingredients
. . 200g chicken thigh, 500ml chicken stock, 100ml tomato puree
. . 2tbsp lard
. . 1 pc chile pasilla, 1 pc chile ancho, 1 pc chile mulato
. . ½ white onion, 1 pc garlic
. . 10g peanut, 30g raisins (or other dried fruit), 10g pepitas, 15g sesame seeds
. . ¼ tsp cinnamon, 2 pcs cloves, 1 pc tortilla fried
. . 10g chocolate, Salt and sugar- to taste
Directions



Heat sauce pot over medium heat. Add chicken stock.

Poach chicken in chicken stock- about 5 minutes.

Remove chicken and chicken stock to separate containers

Return pot to stove over low heat. Add lard.

Add 1.), Toast in pan for 2 minutes.

Add 2.), fry for 1 minute.

Add 3.), fry for 2 minutes. Turn off heat

Add 4.), stir over residual heat.

Add chicken stock and 1pc fried tortilla back to sauce pot.

Blend with a stick blender.

Add chocolate and chicken, season with salt to taste and reduce to sauce consistency.
© 2021 OTAO Kitchen. All Rights Reserved. ABN 65 606 809 581
Printed From otaokitchen.com.au 05/06/2021