Blogs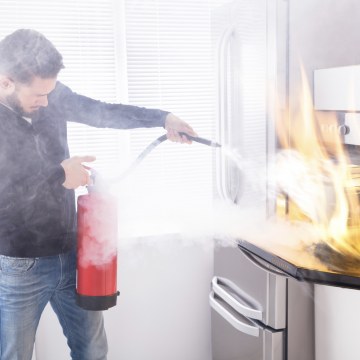 6 Kitchen Safety Do's And Don'ts
|
1
Likes
The kitchen is the heart of the home. It's the workhorse of a household, given all the cooking, baking, meal prepping, and washing of dishes that are done multiple times daily. The kitchen is also identified as one of the home's riskiest areas. A lot of accidents can happen, albeit preventable by practicing good safety practices.
In the kitchen, safety can mean a whole lot of things like avoiding fires, electrocution, slips, falls, cuts, and even as to food handling as well. They might seem nitpicky, but they should never be compromised.
With that said, remember to practice these kitchen safety do's and don'ts, so anyone working in your kitchen can avoid burns, cuts, and other kitchen hazards:
Do: Have A Fire Extinguisher Nearby
Many modern homes today come with all sorts of safety features like fire alarms and water sprinklers. It's an added price to pay to have those installed, but it's certainly worth it in the name of safety. Homeowners of new properties, however, often have no choice as many local laws today require having those fire safety equipment and machines before their occupancy permits may be approved.
For older houses, this doesn't mean your home should be any less safe. A good alternative to built-in water sprinklers is to have a fire extinguisher. Once you have one, learn how to use it too, in case you have a kitchen fire or something similar.
Do: Check All Your Wires And Cords
If you have old appliances, check them from time to time so you can be sure they're still worthy of being used. By this, it means going through all the wires and cores to see that no wires are frayed. Old and worn-out wires and cords are a top safety hazard, so you have to be careful with using those.
Along with wires and cords, check the overall condition of the appliances too. Like wires, old and dysfunctional appliances are a safety hazard as they can overheat, for instance. There are so many new appliances nowadays with reasonable prices, so you can still find a few within your budget.
Do: Wash Your Hands Before Meal Prepping
No matter how much of a rush you're in, wash your hands before prepping or touching food. Always have hand soap ready by your kitchen sink, within reach of anyone who needs to wash their hands.
This is a basic safety practice that helps ensure proper food safety and handling. When not practiced, food contamination can happen and unfortunately, this can mean getting sick after eating the food you've prepared.
Do: Practice Proper Fridge Organization
Properly organizing your fridge isn't just about having an aesthetically-pleasing one, as you may see across various TikTok, Instagram, and YouTube videos. Rather, it's also a matter of safety.
This means that food is placed on the right levels and sections in order to avoid spoilage and to keep it fresh. Moreover, proper fridge organization also means preventing heavy food containers and liquids from falling on you or your kids when you open the fridge simply because everything is a mess inside.
Don't: Wear Loose And Flowing Clothes When Cooking
No matter what the occasion may be, if you'll still be cooking in the kitchen, skip the loose, flowing, or billowy clothes. You'll be in a rush and too busy trying to finish all the cooking that the last thing you want is for your clothes to get trapped somewhere. In worst instances, your clothes may get caught in a fire.
Always wear tight and properly-fitting clothes when cooking. You can always change to your dress later on once you've finished.
Don't: Try To Catch A Falling Knife
Attempting to catch a falling knife means potentially cutting yourself. Rather than try your best to catch it, a better practice is to take a step back instead and let the knife fall on the floor. Just be sure you're alert enough to move far enough so the knife doesn't land on your foot as well.
Conclusion
Sure, you've heard of all the horror stories of accidents in the kitchen, both big and small. The kitchen should be a happy place, but if you aren't careful enough, it can also be a hazardous one. Especially when you're doing a lot of cooking as in during parties, it's all hands on deck that safety can easily be placed on a backseat. All the do's and don'ts above point to one important conclusion: when in the kitchen, always have the presence of mind and be alert. Accidents can easily be avoided when you focus on the task at hand.
Learn more