Blogs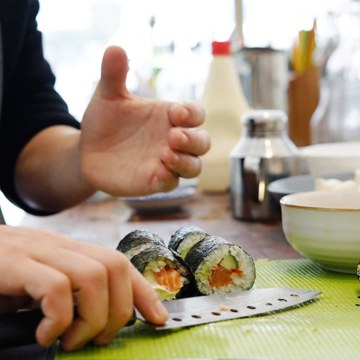 Home Kitchen Knife Kit
|
3
Likes
We all know how important the right kitchen knife set can be. But then comes the question of which set to get: Sharp Japanese steel that makes quick work of meal prep or a cheaper one? We have been using these items in our cooking school for the last few years.
To help you find the best kitchen knife set for your needs, we've turned to reviews from actual customers who have purchased and used these knives for themselves.
Kiwi Knife Asian Cleaver
When it comes to Asian household, everyone will have one of these. Cheap and Cheerful. The cleaver is mostly used to slice boneless meats, chop, slice. It is an excellent tool for smashing garlic and ginger and also use it to transfer food from cutting board to wok or frying pan. You can use for cut meat such as chicken, beef for making minced meats. It is multi-purpose kitchen knives. This Thai cleaver looks much like the butcher cleavers familiar in butcher shops in the west, but thinner. Made from high quality stainless steel. The blade is around 20 cm long, 28 cm height and 15 cm wood handle. Product of Thailand.
Buy On Amazon Fr $33.92
Japanese Santoku Knife
Santoku means three virtues is a blade-style perfect for chopping, mincing and dicing vegetables. This 16.5 cm Wasabi Black is the handy knife you'll turn to again and again in your kitchen. This Wasabi line of knives is made in the traditional Japanese blade styling. To reduce food sticking, the blades are sharpened on a single side or sometimes being slotted. Although it has a traditional blade-style, it is paired with a uniquely modern handle material, polypropylene blended with bamboo powder, and impregnated with an agent for super clean food preparation.
Buy On Amazon Fr $48.97
Cut Resistant Gloves
The cut resistant gloves let you handle your grater, knives, and mandolin slicer while worrying less about bandaging a finger or worse. Great for the kids too.
Made of food-safe ultra-high molecular weight polyethylene, glass fibre and Spandex, these gloves have been designed to resist cuts from even the sharpest blades. We use these gloves for clients to make a salad so they don't cut themselves. Different Size.
NoCry Cut Resistant Gloves with Secure-Grip Microdots and Level 5 Cut Protection. Comfort-Fit. Food Grade, Size Medium. Includes Free eCookbook!
" style="-webkit-font-smoothing: antialiased; color: rgb(46, 145, 252);">Buy On Amazon Fr $16.99
Whetstone
When your kitchen knives are being used during every service you'll need to revive the blade to keep it sharp.
Just a few minutes using the 400 grit side and you'll restore dull blades. A few more minutes on the 1000 grit side and that edge will be sharper than before.
Wet the whetstone's surface to float away from the swarf. The silicone base keeps the whetstone in place, so you can keep a consistent angle.
Buy On Amazon from $26.99
Learn more