Blogs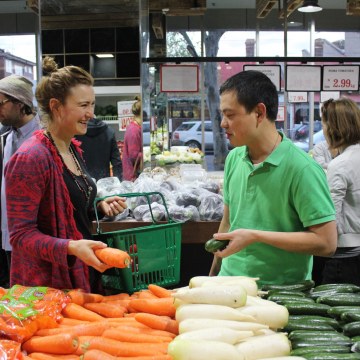 Parking in North Richmond & South Abbotsford?
|
3
Likes
North Richmond & Abbotsford Victoria is a vibrant inner-suburb of Melbourne, just 3km outside the Melbourne CBD. There's plenty to do in North Richmond & Abbotsford, but it's most famous for its shopping, eating and drinking, watching spots from Melbourne Cricket Ground, the largest sports stadium in the southern hemisphere. North Richmond & Abbotsford is well served by public transport. Having a plan for parking in North Richmond & Abbotsford will make your life a lot easier. There are lots of options for cheap parking in Richmond, but as the closest suburb to the MCG it's crowded when there's a big game on with over 100,000 people.
The best way to get to here is via train or tram, with lots of route choices. You can get to Richmond's train station from Flinders Street Station in the CBD, with a travel time of about 10 minutes. Tram numbers 70, 109, 48 and 75 will also get you from the city into various parts of North Richmond/Abbotsford.
There's limited street parking in North Richmond & Abbotsford, if you want to try your luck. Most street parking is timed, and some spaces are reserved for local permit holders. Your best bet is to look on side streets away from the busier areas such as Bridge Road, Victoria Street, Swan Street or Church Street – but always pay attention to the signage. Remember parking will be harder to find in peak times or where there are events on so leave lots of time to look for a spot.
If you're looking for a park near Bridge Road, you can't beat Richmond Traders. This car park is accessed from 261 Bridge Road and offers easy access to shopping on the main strip. It operates from 6.00am to midnight each day and you can pay for parking with cash or credit card. This is being upgraded till 2021.
Victoria Gardens is a shopping centre on the corner of Victoria and Burnley Streets or connecting with Bridge Road East End Victoria Gardens Shopping Centre car park gives you access to one of the major shopping hubs in Richmond – with supermarkets, cinemas, and food retailers close at hand. This is some of the cheapest parking in Richmond if you're parking for just a few hours, but stay over 6 hours and parking gets expensive.
If you're heading to Church Street for a short-stay, you could consider Church Street Car Park. This car park is open 24 hours a day but has a maximum parking time of 2 hours most of the time. The only times with no maximum parking time are before 6am and after 8pm on Saturday and Sunday.
If you're heading to Victoria street you could consider the Hive shopping car park. This carpark is open to serve aldi and woolworth supermarkets and other shops. The first hour is free then you will pay $4 per hour after. The Victoria street parking is about $2 per hour.
If you need to visit Epworth Hospital on Bridge Road, there's limited undercover parking available. Hospital parking is filling up quickly and never cheap, but it's an easy option when you really need to be there. The car park entrance is on Bridge Road.
Located off Bridge Road and close to Epworth Hospital, Allowah Terrace Car Park is operated by Ace Parking and is both convenient and cheap. This car park is open 24/7 and has no height restrictions. It's also just a short stroll away from the MCG, so it's a great spot for game day parking or night time events at the stadium. Just get there early!
This one isn't a car parking location, but an app to help you find one. PayStay is a convenient way to search for available on and off-street parking spaces, and to use cashless payments too.
When using the app, you'll be able to check it for parking availability in an area. It will show parking availability as low, medium, or high, so you'll know just where you need to go. Once you have a spot you can use the app to pay for parking and to set reminders to let you know when your parking session is about to expire. It's super useful!
Learn more