Printer Friendly
Print Option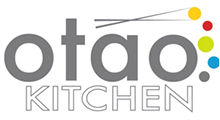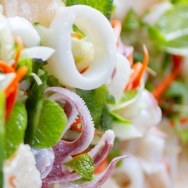 Thai Squid Salad
Servings


2

Prep


15

m

Cook


10

m
Recipe By: Chef Ha Nguyen
This Thai Squid salad is full of flavour. You can replace the squid with prawn, chicken or other meats. Please see Green Curry and Red Curry Making.
Ingredients
200 g Squid clean and shaved into thinly slice
. . Dressing (1 tasp fish sauce, 1 tasp brown or palm sugar, 1/2 lime juice, 1/2 tasp fresh curry paste)
2 tasp Shallot or onion thinly sliced
1/2 cup Cucumber, carrot, celery and iceberg - thinly sliced - optional
1/2 handful Herbs (thai basil, Vietnamese mint, mint some coriander)
to taste Black pepper
Directions
In a large bowl, combine fish sauce, lime juice, sugar, crushed Thai paste. Stir in sweet onions and vegetable slices.

Rinse squid under cold running water. Slice squid bodies crosswise into very thin rings. Cut tentacles into several pieces if large.

Bring a small pot of boiling water to high heat. Add the squid to boiling water and cook until tender, 30 seconds to 1 minute. Drain and add to dressing in bowl.

Add herbs. Toss and coated with dressing.



© 2021 OTAO Kitchen. All Rights Reserved. ABN 65 606 809 581
Printed From otaokitchen.com.au 02/27/2021