Corporate Events
Corporate Events Melbourne
Class size 10-150 people | Time 2-4 hours | Package with food, wine, cooking equipment, venue | Staff Expert chefs and hosts | Skills Beginner to Advance Cook | Venue Richmond (own) or Melbourne CBD (hired) | Extras branded apron, knife, photography, speaker
Otao Kitchen has proven success in delivering unforgettable corporate events and team building activities in one of the most food and cultural rich cities in Australia. Melbourne is a perfect location for countless corporate events Melbourne ranging from team building cooking to world renowned cultural and sporting events. We are a cooking school and event space in Melbourne and we make sure we maximise Melbourne incredible local offering along with its new and exciting opportunities to create unique and memorable experiences.
We choose cooking event format which are perfect for each client, bringing together the enjoyment and meaningfulness of our vast activities and experiences we offer in Melbourne, Australia. We are constantly researching new ideas and bringing unique food events to our clients, demonstrating that we are at the forefront of what we do, offering the very best in corporate events Melbourne.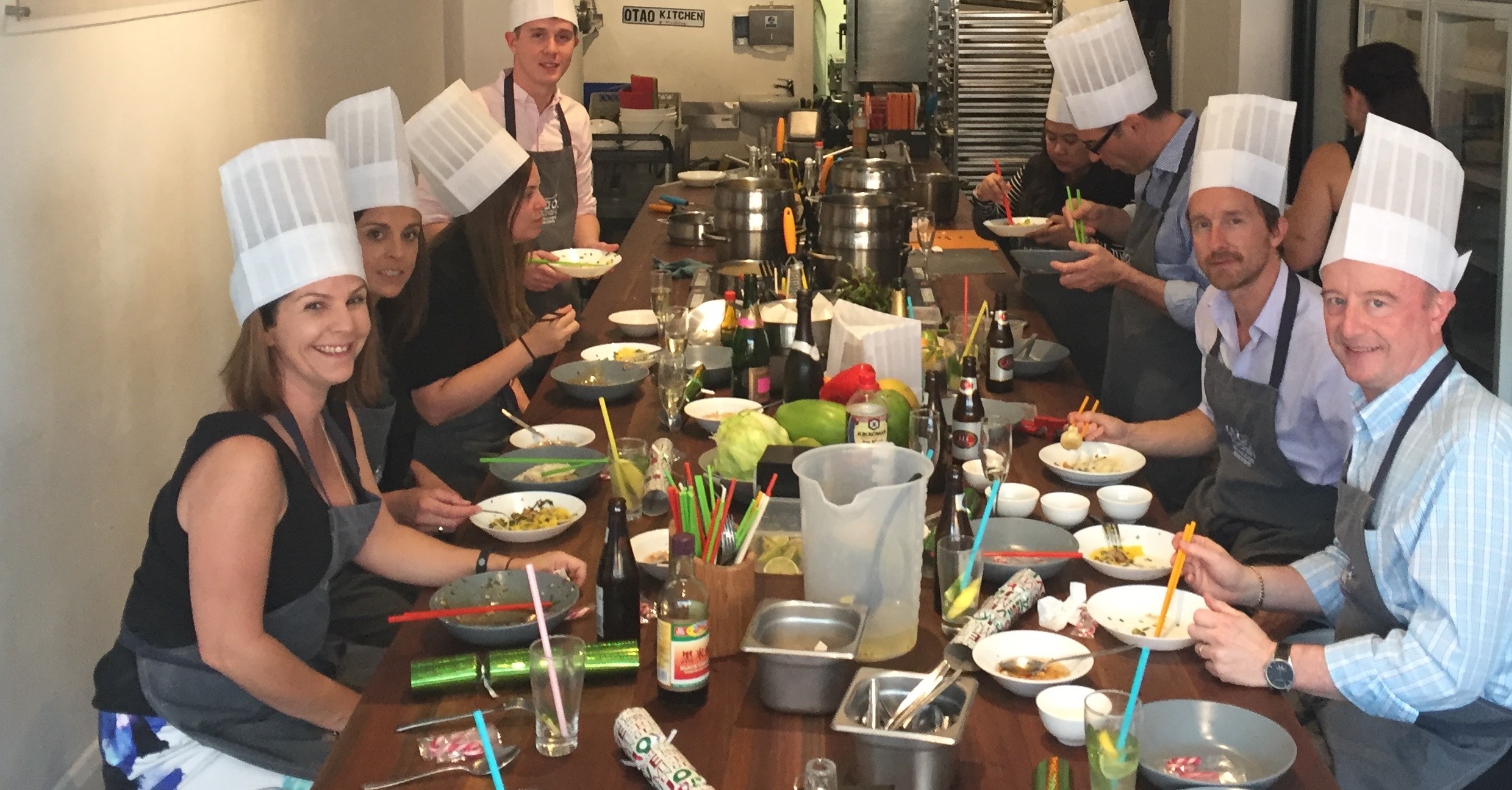 Your private corporate cooking parties gets together to enjoy a hands-on cooking experience with plenty of entertainment in preparation for your cooking party. Located conveniently in Victoria Street Richmond, we are also only minutes from the Melbourne CBD and easily accessible by public transport. There are plenty of local bars and venues to visit afterwards.
Our facility is a purpose-built space offering a range of hands-on Asian cooking classes to suit your tastes. Our training kitchen is fully equipped, using the latest induction cooking technology which is efficient and safe for you and your group. Group cooking classes can accommodate up to 20 people and can be personalised to suit your Private Group Cooking Parties.
HIGHLIGHTS
A fully interactive corporate cooking session, everyone cooks together.
Best value for different menu activity, entertainment, food and wine package in town!
Can include friendly competitive pressure on the teams
Explore fundamentals of cooking ingredients, spices and flavour profile
Chef led so there are no cooking disasters
Flexible with timing from 2 hours or more for 10-150 people
Everyone sits down together to enjoy and meal and a drink
We do the dishes!
ON THE DAY
Our Private and Corporate Cooking Events are 2-4 hours in length depending on your package. We handle all the food, drink and equipment even aprons so you and your guests can enjoy the bonding time together.
We begin with a complimentary refresher while guests are arriving. You are introduced to the chef and team for the day. We prep for one hour. Then we together cook all the dishes. Expect to work solo or in a small team of 2,3,4 or 5 people depending on the team-building format you selected.
Once the chopping and cutting are finished we invite you to have a drink and celebrate new flavours, exotic ingredients, cooking, drinking, eating and sharing your creations around a large kitchen table.
We are not ordinary cooking class, there is no recipes or slide show or lecturing, we are a playful arena where you and your guests can build connections, make great memories and as well healthy and freshly made foods. You can download the recipes HERE.
Ask us for pre and post event or even accomodate suggestion for your guests.
WE HOST TEAMS OF
SEEK.COM, CRICKET AUSTRALIA, SCOTTISH FINANCE, REALSTATE.COM, ERNST & YOUNG, TOP DECK TRAVEL, KORNN FERRY RECRUITMENT, BUNNINGS, NBN CO, FONTERRA, HENGI, HUDSON, GFM WEALTH, CARE SUPER, COLONIAL FIRST STATE, RPS GROUP, SAN CHURRO CHOCOLATE, S CENTRE GROUP, VIC ROADS, TRANSURBAN, JAQUAR, FUTURE YOU, TALENT WITHIN, MAY BORN, GUIDE DOGS VICTORIA, CBRE, CARGILL, FEDERATION CENTRE
YARRA RANGE COUNCIL, BAPT CARE, AUSTRALIAN RED CROSS, ... and many more...