Online
Monday-Friday 2pm, 3pm, 4pm, 5pm, 6pm for private and corporate bookings
Saturday-Sunday - public classes
NEW! COOKING CLASSES WITH MAGIC BOX OF INGREDIENTS

$119pp per class. Order extra gin tasting or wine tasting kit from $49pp
Allow 2 weeks for the boxes to reach your work or home addresses due to Covid19 delays.
With Magic Box Delivery Online
Handmade dough at home
Shitake Mushroom, Bamboo shoot and Water Chestnut
With Magic Ingredient Box Online
Handmade ramen at home
Mushrooms, chilli oil or spicy miso, kelp and soybean broth or
With Native Ingredient Box Online
Australian Bush Herb, Jerky Beef, Green Apple*, Mint*
Chicken* or Fish* cook in Banana leaf, chef made native pesto
With Magic Ingredient Box Online
Handmade pasta at home
Chef made pesto, mix mushrooms and porcini creamy sauce
ASIAN COOKING CLASS SERIES
(9 classes) $49pp per class
Handmade dough
Dumpling of your choice (pork, chicken, beef or vegetarian)
Chả giò - Spring rolls - Vegetarian or Pork
Pho Ga Traditional Chicken Noodle Soup
Nam Tok- Waterfall Beef/Tofu Salad
Kaeng Khia Wan - Green Curry Chicken or Vegetarian
Hun Tun Tang- Wonton Soup or Jiaozi- Pork Dumplings
Hokkien Mee- Stir Fried Noodles with Bok Choy
Prawn Masala or Chicken Tikka Masala
Aloo Gobi - Cauliflower, Potato Curry
Naan - Indian flatbread

Bumbu Merah - Red Spice Paste
Satay Ayam - Chicken Skewers with Peanut Sauce
Pepes Ikan - Indonesian Steamed Fish
Nasi Kunning - Yellow Rice with Coconut & Turmeric
Kinoko Miso Shiru- Mushroom Miso Soup
Okonomiyaki - Japanese Pancake
Shake Teriyaki- Salmon or Chicken Teriyaki
Samgyeopsal - Grilled Pork Belly Lettuce Wraps
Japchae - Sweet Potato Noodle Stir-Fry
STREET FOOD OF ASIAN COOKING CLASS SERIES
(4 classes) $49pp per class
Thai Street Food | Jan May Sep
Nam Phrik Kaeng Daeng - Red Curry Paste
Thai fish cake with sweet sour dipping sauce
Pad thai stir fry noodle with chicken and prawn
Vietnamese Street Food | Feb Jun Oct
Bun Cha - Vietnamese Pork BBQ
Chạo Tôm - Prawn & Sugarcane Skewers
Japanese Street Food | Mar Jul Nov
Tori Katsu - Breaded Chicken Cutlet with Two Sauces
Free-hand rolled sushi with salmon & avocado
Chinese Street Food | Apr Aug Dec
Cong You Bing- Spring Onion Pancakes
Handmade Dan Dan Noodle with pork mince and chilli oil
VEGAN ASIAN COOKING CLASS SERIES
(4 classes) $59pp per class
Korean vegan - Sachael Eumsk | Jan May Sep
Oi-Baek-Kimchi- White Cucumber Kimchi
Chaeso-Gukmul - Kombu & Shiitake Mushroom Stock
Mul-Naeng Myeon- Cold Buckwheat Noodles with Broth
Danhobak-Bokkeum- Stir-Fried Kabocha Pumpkin and Broccolini
Japanese Vegan - Showujin Ryori | Feb Jun Oct
Shojin Dashi - Kombu & Shiitake Mushroom Stock
Kinoko Miso Shiru - Mushroom Miso Soup
Gohan - How To Cook Japanese Rice
Chirashi Sushi | 5-coloured Sushi Rice
Indian Vegan - Sattvic | Mar Jul Nov
Naan - Indian Flatbread
Palak Paneer- Spinach Curry with Tofu
Aloo Gobi - Potato-Cauliflower Curry
Vietnamese Vegan - An Chay | Apr Aug Dec
Nước chấm - Sweet and Sour Dipping Sauce
Gỏi Cuốn- Rice Paper Rolls with Seasonal Vegetables
Phở Chay - Vegan Pho with Tofu and Mushroom Broth
Đậu Phụ Sốt Cà Chua – Tofu In Tomato Sauce with Herbs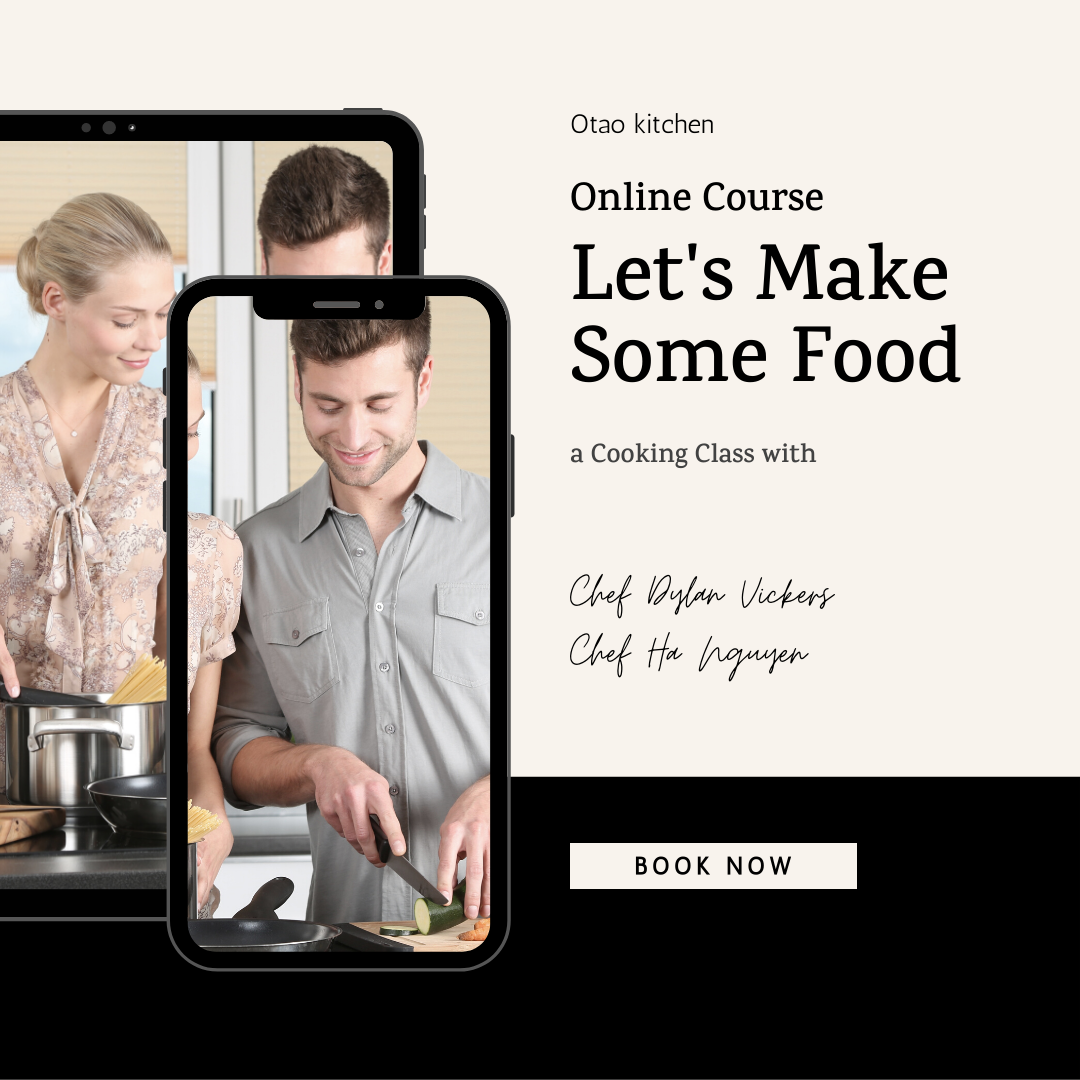 FAQs
What is the Zoom?
Upon booking, you will receive a zoom ink https://zoom.us/j/8697696969, recipes and videos. If you want to learn more about how to join Zoom meeting here.
The zoom link for a private and corporate class may be different because some organisers use a company Zoom, Microsoft or other corporate account.


What Can I Expect In An Online Class?
At your scheduled class time, you will enter a virtual classroom via the Zoom link provided. Our expert chef will guide you step-by-step through a recipe, answering questions along the way.
Online Cooking Classes With Ingredient Kits?

Date and Time. Please book the class at least 2 weeks for your ingredient kit to arrive.
Delivery. Two weeks before the event, please confirm the guest number and contact details (name, addresses, mobile and email). We will send the boxes to their addresses with notification linked to their email and phone number given Australia post is a bit slow at the moment due to Covid19.
Payment. Full payment is required two weeks before the event, as the kits will be sent out by then.
Dietary. Please send us your guest dietary requirement so we can prepare the boxes correctly.

How I can buy ingredients for online classes?
We use the ingredients from major Australian supermarkets, however we know it might be not easy to find ingredients, please visit our classes before you book.
Please measure and put all the ingredients on a dish/tray so you will be ready to cook and enjoy yourself while connecting to others.
If you tell us about your dietary requirement, we can suggest some substitute ideas. We will do our best to help you to cook the dishes on the menu.

What's The Difference Between an Online and an In-person Cooking School Class?
Our Online Cooking Class will have you and your chef cooking together in real time. We'll provide you with the recipe, video, shopping list and equipment list upon registration, so you're prepared to get cooking, and when it's over you'll have a meal on the table! Our chef will make sure your questions are answered live.

What Will I Use To Connect To Class?
We use Zoom for all of our virtual classes. It's a fairly intuitive platform, but we recommend getting familiar with Zoom's functionality before joining the class.
You'll need an internet connection and the ability to stream audio and video to participate. A link, meeting ID number and password to use to join the Zoom session will be included in the email sent at least two hours prior to the class start time.
If you are having trouble accessing the meeting, please see Zoom's support video and article. Keep in mind that while we use the Zoom platform, we are not a support team for Zoom.

How Can I Get The Recipes For Class?
The recipes for each class will be provided upon registration in your confirmation email. If you are taking a class, an equipment and shopping list will also be provided so that you can be prepared to cook during the class.
We recommend you to watch the pre-recorded the videos below to understand the recipe before you start making and cooking.

How Long Are The Virtual Classes?
Our virtual classes range in length from 1.5-2hours, depending on type of class. In each type of class, our chef answers all of your question.

Are The Virtual Classes Family Friendly?
Yes, since our classes are priced per screen, feel free to include your family and children in your household in any one of our classes, especially the classes geared for families. Children should always be supervised by an adult while cooking.

Will I Get To Speak To The Chef?
During our Cook Along classes, you have the opportunity to ask the chef questions yourself. Our chef will indicate when you can unmute yourself, and you can ask your question directly to the chef. We will do our best to get to every question possible during the class.

Can I Have A Beer Or Wine?
In this online cooking class, you are welcome to BYO your wine and beer. However, for safety, please enjoy your beverages at the end of class.

How Do I Prepare For Class?
You will be provided with recipes. You may have many items in your pantry already! Plus we send you an equipment list.
We recommend getting organised by measuring out your ingredients and gathering your equipment.
Most knife skills will be done together in class, but your recipe packet will contain specific instructions for each class.
You are always welcomed to do more prep ahead of time if you feel that will help you during the class.
Organisation will allow you to easily access all necessary ingredients and materials during the class to best cook along with your chef.
You can start cooking at your own pace before the actual zoom class because you have ingredient list, recipes and video (optional).
Plus we will answer your question, email us at hello@otaokitchen.com.au.

Can I Make Substitutions For Ingredients I Don't Have Or For Dietary Restrictions?
We know you are cooking with what you have at home and therefore may need to make substitutions. You may ask the chef about substitutions or dietary restrictions during the class via the chat functionality.

What Is The Cancellation Policy?
All online class sales are final. We do not offer refunds or credits.

Will Classes Be Recorded?
Otao Kitchen Cooking School has the right to record all virtual cooking classes for future use on our website and other applications.
If you do not wish to be recorded, we recommend you turn your camera off during the class. Please note that recordings of classes will not be provided to students.
Edited recording of the classes may be used at a later date without a view of the participants.
All in-class interactions and or questions asked of the chef will be part of the recordings though.
Can I Pay For An Online Cooking Class With A Gift Card?
Yes! You will be prompted to enter a gift card code at the time of check out. Alternatively, you can book the class and send us your existing order/gift card code and we will reconcile later.