Printer Friendly
Print Option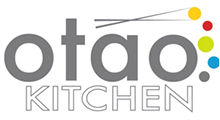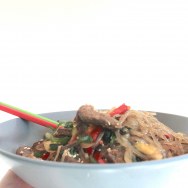 Thai Glass Noodle
Servings


2

Prep


10

m

Cook


10

m
Recipe By: Chef Ha Nguyen
Glass noodle salad belonged to my favourites. Like in majority of Thai salads, it is a great mix of flavours like spicy, sweet and sour. You can garnish with peanuts however in the class we may not provide peanut as someone might have allergy.
Ingredients
50 g Dry glass noodles -cooked in hot water and drained well
2 cup Vegetable Julienne (1/4 slice onion, 1/4 Lebanese cucumber sliced, 1 stalk of celery sliced, 1/2 tomato diced, 1/4 carrot sliced)
. . Thai dressing (1tasp fish sauce, 2 tasp sugar brown, white or palm, 1 tasp tamarind or lime juice, 1/2 tasp canola oil, 1 tasp fresh curry paste)
. . Garnish with fried shallot or peanut optional
120 g Option with Beef, Chicken thigh or fillet slices marinading with 1/2 tasp soy or fish sauce, 1/2 tasp curry paste, 1 tasp canola oil)
Directions
To make the dressing, place all the ingredients in a small bowl and stir to dissolve the sugar. Set aside.


Cook the chicken fillet or pork.

Fill the pot with water and boil the noodle for 5-7 minutes for thick noodle or less. Read the instruction on the package.
© 2020 OTAO Kitchen. All Rights Reserved. ABN 65 606 809 581
Printed From otaokitchen.com.au 10/31/2020