Printer Friendly
Print Option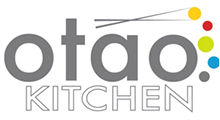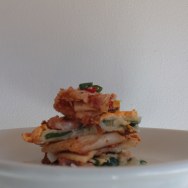 Kimchi pa-jeon Korean Pancake
Servings


2

Prep


10

m

Cook


10

m
Recipe By: Chef Ha Nguyen
This Korean spring onion pancake (pa jun) recipe is easy to make and is always a winner. It works as a hearty snack, a canape, or a side dish for your meal.
Ingredients
50 g marinara mix (mussels, prawns, squid)
60 g chopped kimchi
2 pcs spring onions, cut into 3cm batons
. . THE BATTER
100 g cold club soda
70 g tempura flour
2 tablespoons egg
1 tablespoon cornstarch
1 teaspoon salt
1 tablespoon vegetable oil
Directions
Combine all ingredients together in a bowl using chopsticks.




Heat a pan over medium-low heat. Add the vegetable oil.

Once the oil is hot, add the spring onions and cook for a minute or 2 until the begin to take on some colour. Add the seafood and cook for another minute or so.

When the sesame oil heats up, pour half of the batter into the pan.

Cook for 2 minutes, until the edges set and you can begin to lift a spatula under the pancake.


Once the bottom side of the pancake has browned a little, flip it over and cook until the other side browns.
© 2021 OTAO Kitchen. All Rights Reserved. ABN 65 606 809 581
Printed From otaokitchen.com.au 09/16/2021