Printer Friendly
Print Option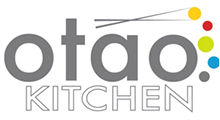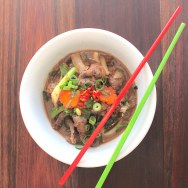 Bulgogi 불고기 Sliced and Seasoned Barbequed Beef
Servings


2

Prep


20

m

Cook


10

m
Recipe By: Chef Ha Nguyen
A Korean marinated beef, well-known Korean traditional foods, originating from centre North of Korea Peinsula. The cooking method of Bulgogi evolved over time and varies by region. The marinate would have soy sauce, sugar and Korean pear juice.
Ingredients
200 g Beef primecut
1/2 unit Onion sliced
2 stalks Spring Onion
1/2 pcs Carrot - cut them into round dish
. . 1/2 tsp Sesame oil and 1 tasp canola oil for frying
Directions
Remove the blood from the meat with kitchen paper. Pour the marinade sauce into the bowl and mix well with the meat. Add the sesame oil and gently mix it into the meat and marinate the meat for at least 4 hours in the fridge.


Prepare the vegetables. Thinly slice the onion, carrots and spring onion.


Preheat pan on the stove on medium high heat and once heated add the cooking oil . Add the meat and vegetables and stir. Cook them on high heat for 3 to 5 mins until the meat is starting to turn brown. Stir occasionally (every 30 seconds) and reduce the heat gradually as the meat & vegetables cook.

When the meat is nearly cooked toss in the sesame seeds. By now the heat should be very low. Stir them quickly and turn off the heat. Serve.
© 2021 OTAO Kitchen. All Rights Reserved. ABN 65 606 809 581
Printed From otaokitchen.com.au 05/06/2021