Turnitin Virtual Class
Publish on:
19 November, 2020
| In:
Experiences
| Author by:
Otao kitchen
ZOOM LINK
Zoom link https://zoom.us/j/8697696969
Zoom link for a private and corporate class may be different because some organiser use your own Zoom, Microsoft or other corporate account.
If you want to learn more about how to join Zoom meeting here
HOW WE RUN THE CLASS?
Before your online begins, please read the recipes and watch instructional video.
We recommend you to watch our pre-recorded the video to give you a better understanding of the dish before you start.
In this online cooking class, you are welcome to BYO your own wine and beer. However for safety, please focus on cooking during the lesson, and consume responsibly.
We recommend for you to measure and put all the ingredients on a dish/tray to be ready to cook. This way, you can enjoy yourself while connecting to others. If you tell us about your dietary requirement, we can suggest some substitute ideas. We will do our best to help you to cook the dishes on the menu.
SPECIAL DIET NOTES
Gluten-free - you can opt to have GF soy. Replace 160g wheat flour for supermarket self raising gluten free flour for dough + 75ml hot water. Mix well. May need to adjust the water/flour
Vegetarian/ Vegan - you can replace all our meats with, 2 cups of minced frozen veggies mixture, or 2 cup of cooked diced mushroom.
Dairy-free - Most cases, the recipes doesn't include dairy.
Low sodium. Use less soy sauce.
Kosher. You can use the recipes as a base but use your own version of meats beef or chicken
Halal. Our meats are not halal. You can replace with halal versions.
No nuts. We don't include any nuts in our meals.
EQUIPMENT
Sharp knife and cutting board
Sturdy sauté pans, a large pot with a steamer setup
A set of small bowls for your organizing your ingredients and a few bowls for mixing
A rolling pin, spatula, tong, and tablespoons
Food processor or mortar and pestle
Measuring cups, measuring spoons, and a digital scale
---
DUMPLING MAKING
2 serves | level easy | total time 1 hour 10 mins | active time 30 mins
How to do video
;
Pan-fried, steamed, or boiled, these dumplings can be enjoyed in many situations. Make a whole bunch of them, store them in the freezer, throw them into curries, stir-fries, pan fry them or steam the possibilities are endless.
INGREDIENTS
DUMPLING DOUGH
FILLINGS
Meat options: 180g pork, chicken or beef mince
Vegan/Vegetarian: 180g of precooked mushrooms or 2 cups of crush supermarket frozen vegetables.
Vegetables: 1 leaf of wombok Chinese cabbage, chopped finely (can use 1 cup chopped cabbage) + 1 baby king oyster mushroom or button mushroom minced + 1 spring onion, minced + 1 clove of garlic, minced + 1 clove of ginger, minced
SEASONING
2 tsp soy sauce + 1 tsp Shaoxing (Chinese rice wine) + 1 tsp vegetable oil + ¼ tsp sesame oil + ¼ tsp salt + ¼ tsp sugar
DIPPING SAUCE
1 tbsp soy + 1 tbsp black vinegar or just any vinegar + few drops of chilli oil
METHOD
Add the flour into a small mixing bowl. Use your hand to make a small well or dip into the centre of the flour. Add the boiling water to the centre of the flour and use a chopstick or fork, mixing the flour and water until it begins to clump together.
Turn the dough out onto a work surface and make sure to scrape the inside of the bowl to get all the remaining bits of flour. Knead the dough for 5-7 minutes until the dough begins to become smooth and pliable.
Cover the dough with plastic wrap and allow it to rest for 30 minutes or overnight in the refrigerator.
Place the mince in a bowl and mix in the seasoning. Mix well until the mince become sticky. Add in chopped cabbage, mushroom, spring onion, garlic and ginger. Rest on the side.
Using a knife, cut the dough into 24 equal pieces.
Take each piece of cut dough and, using your index finger and them, lightly shape them into small cylinders or marshmallow-shaped pieces.
When all 24 pieces have been shaped, use the heel of your hand, to squish/flatten each marshmallow shape into small round discs.
Dust your work surface generously with flour and use a rolling pin to roll the discs out into thin 1mm rounds.
Every time you make one forward roll with the rolling pin, turn the dumpling skin 45 degrees, repeating as your dough gets thinner and thinner. This equal turning should give your dumpling skin an even, round shape. Repeat this process 24 times.
Prepare a small bowl with a few tbsp of water. Taking one dumpling skin, wet the edges of the with a little water and place 2 tsp (about 10g) of filling into the centre of each dumpling skin.
For an easy shape, fold the dumpling skin in half and press both edges of the moistened skin together, pinching along the entire seam until the filling has been sealed within a 'half-moon' shape. Grasping the 2 corners of the dumpling skin, slowly bring the 2 edges together until 1 side overlaps the other, gently press together to seal.
Repeat this process until you have used up all the filling.
Place the dumplings in an oiled steamer basket and steam for 8-10 minutes or until the filling feels firm when gently squeezed. • Use pan to fry the dumpling if you wish so.
Mix the dipping sauce and enjoy!
---
Nam Tok - Waterfall Beef Salad
2 serves | level easy | time 25 mins | active time 10 mins
INGREDIENTS
THE MIX
1 Lebanese cucumber, julienned
1 spring onion, sliced diagonally
1 tomato, sliced
1 TBL vegetable oil
200g beef rump, sliced
1 small red onion, sliced
6 green or 2 snake beans, sliced diagonally
1/2 carrot, julienned
1/2 yellow capsicum, sliced
THE SAUCE
1 tsp fish sauce
1 TBL raw sugar
1 TBL soy sauce
1 garlic clove
Thai chilli paste or fresh chilli, to taste
1 Lime for juice
OPTIONAL GARNISH
lime juice
lettuce leaves or sliced wombok
roasted peanuts
crispy shallots herbs such as mint, coriander or Thai basil
METHOD
Divide the julienned cucumber, spring onion and sliced tomato into serving bowls.
To make the sauce, combine the fish sauce, sugar, soy sauce and chilli, garlic and lime juice and set aside.
Heat a wide pan over medium heat and pour in the vegetable oil. When the oil is hot, add the beef and sear for 1-2 minutes, turning occasionally.
Add the onion to the pan and fry for a minute, or until the onion has a chance to soften.
Combine the capsicum, beans and carrot into the pan and stir-fry until they begin to wilt slightly.
Tip the sauce into the pan and simmer until it reduces to a thick, glossy consistency.
Spoon the stir fry over the sliced raw vegetables, and toss together.
To serve, squeeze the lime juice over the salad and finish with optional garnishes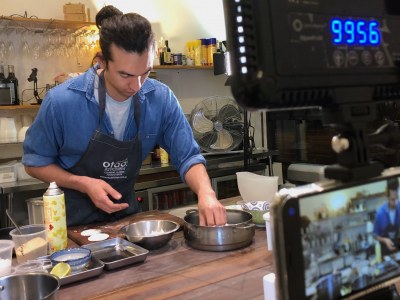 Dumpling Making Party Online
Do you love dumplings and want to try making them for yourself at home? This unique online cooking experience will...
Duration 2 Hours
From AUD $32
Book now
Thai Cooking Online
Our Thai cooking online class showcases the vibrant and inspiring complexities of Thai cuisine in one conveniently...
Duration 2 Hours
From AUD $32
Book now