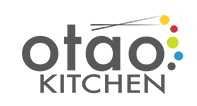 Thai Chicken Wings
Publish on:
27 April, 2019
| In:
Thai
| Author by:
c
Thai Chicken Wings is a quick and easy recipe to prepare, and is a great way to liven up not just the wings but other chicken cuts. This Thai chicken wing recipe will get you some succulent sweet and rich tasting wings that are a fantastic quick snack just like the street foods in Bangkok. The ingredients can be found any supermarkets with the with the the maggi sauce - a richer and thicker soy sauce or substitute it with soy sauce.
Ingredients
4 pcs Chicken wings or drumettes or drumsticks
. . Sauce ( 1/2 tasp fresh curry paste, 3 tasp brown or white sugar, 2 tasp Maggi sauce, white pepper + dash of turmeric powder).
Methods
Put the the ingredients for the sauce into a bowl then mix in the liquid ingredients.

Pop the chicken wings or other cuts in and marinade overnight.

Once the chicken have been marinated, grab some large skewers and place chicken onto each skewer, this will make grilling easier.


Grill the wings for about 15 to 20 minutes, turning regularly. Each time you turn them reapply another coating of the marinade – this will add flavour and prevent the chicken form drying out, keeping it really succulent and juicy.


Alternatively you can can steam the chicken first then grill them so stop them drying out.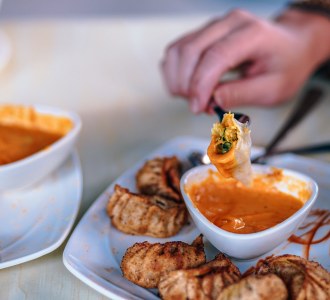 Street Food of Asia
Embark on a cultural journey into the Street Food of Asia with this series of cooking classes. From the smoky...
Duration 6.25 DAYS
From AUD $165
Book now